Rehabilitation
Comprehensive therapy services at Wolfson Children's Hospital help children of all ages with sensory, movement, feeding and communication difficulties. We help kids overcome these disorders so they can better enjoy their daily activities.
Wolfson Rehabilitation
We know kids
Wolfson Children's Hospital is a unique resource for kids' health in Northeast Florida and South Georgia. Since we provide care exclusively for children, our clinics are designed and equipped with their needs in mind. We provide services in Wolfson Children's Hospital and at several outpatient clinics throughout the area.
Team approach
The pediatric-trained therapists with Wolfson Children's Hospital are experienced in many childhood medical and developmental conditions that affect a child's ability to live life to full potential. Using a team approach, we work with you, your child and other medical professionals to provide specialized care that is personalized for your child's individual needs.
Clinics
Wolfson Children's rehabilitation collaborates with community health care professionals during weekly and monthly clinics for children with complex medical conditions.
Neurosciences Clinic: for children post brain surgery/injuries
Spinal Defects Clinic: for children with difficulties related to spina bifida
Spasticity Management and Rehabilitation Team (SMART) Clinic: for children with neuromuscular conditions such as cerebral palsy
Wolfson Rehabilitation
Call us for more information and to schedule your child's first appointment at any location.
Conditions we treat
Neuromuscular disorders, such as muscular dystrophy
Juvenile arthritis
Cognitive and visual perceptual deficits
Developmental delays
Genetic disorders
Fine and gross motor coordination deficits
Sensory processing disorders
Speech and language disorders
Nervous system disorders, such as cerebral palsy
Feeding and swallowing difficulties (dysphagia)
Orthopedic conditions and injuries
Pain management
Autism spectrum disorder and pervasive developmental disorders
Voice, fluency and resonance disorders
Acute and chronic medical or traumatic conditions
Rehab Services
At Wolfson Children's Hospital, each child receives personalized rehabilitation services depending on their needs. Our services include:
Occupational therapists help children with sensory-processing and movement challenges achieve their highest level of independence for everyday activities, like getting dressed, playing and learning.
Physical therapists help children achieve movement skills such as crawling and walking, and recover from injuries or surgery to participate in the many activities they enjoy.
Speech-language pathologists assist children in communicating effectively with others and with difficulties eating or swallowing.
Special services and programs
We offer several unique services and programs that require highly specialized therapies. Call Wolfson Rehabilitation for participation in these programs.
Aquatic Therapy for Children Program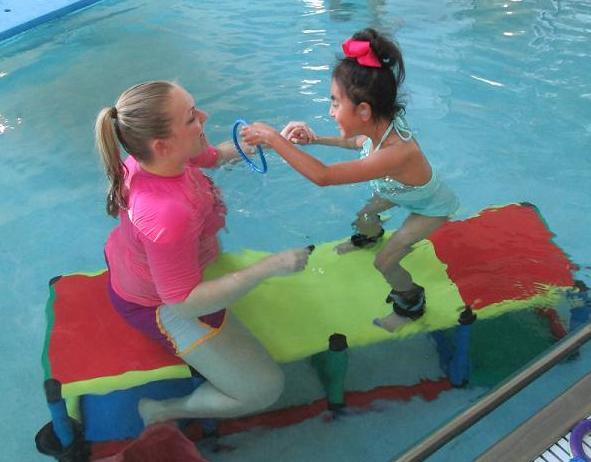 Aquatic therapy is a fun way to help kids build strength, balance, endurance and posture control that is difficult to gain safely on land. Indoor therapy pools provide a comfortable, stress-free environment that encourages active play and participation in therapy. Aquatic therapy can also reduce pain, decrease swelling, improve coordination, help with sensory problems and improve psychosocial skills. The Aquatic Therapy for Children program serves kids 18 and under who need physical and/or occupational therapies.
Helping children ages 18 months to four years old who often avoid social interaction with others or may be showing early signs of autism.
Babies Early Development Clinic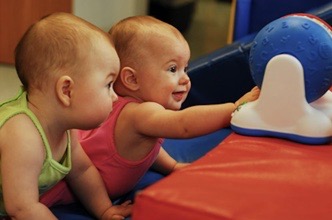 The Babies Early Development (ED) Clinic provides outpatient follow-up care for infants at risk for developmental delays. Our expert therapists evaluate babies at their earliest, most critical periods of developmental to ensure they do not have lingering or emerging problems with motor, sensory or feeding skills. We strive to identify these problems early to help children grow and develop as normally as possible. The Babies ED program is offered several times a month and appointments are typically scheduled approximately 5-6 months after discharge from the hospital.
Our Sports and Orthopedic program offers rehabilitation care for pre-teens and teens with a variety of orthopedic conditions, ranging from sports-related injuries to post-surgery rehabilitation. We also educate patients and families about the condition to help prevent re-injury.
Laser Cranial Scanning
Some infants are born with or develop head-shape deformities, such as plagiocephaly (a flat spot on the head), during the first few months of life. Depending on the severity of of the condition, infants may need physical therapy or a custom-molded helmet they will wear for a few months. To evaluate plagiocephaly, we use an advanced tool called the STARscanner. This state-of-the-art equipment eliminates the need for a plaster cast of your child's head by taking a painless 3-D picture. There's no radiation and doctors use the image to diagnose your child's head-shape abnormality and determine treatment.
The Wolfson Children's Feeding Program is designed for children who have problems eating and swallowing due to motor, sensory or behavioral problems.
Wheelchair and Equipment Clinic
Our Wheelchair and Equipment Clinic ensures children receive the most appropriate equipment for their individual needs. We are the only pediatric clinic in Jacksonville that offers a comprehensive approach, with a team of highly-trained therapists with certifications in assistive technology (ATP), seating and mobility (SMS) and child passenger seat training (CPST). We provide recommendations for the most advanced equipment for walking, bathing, toileting, gait training, orthopedic bracing, activities of daily living and home accessibility.
Since most children qualify for a new wheelchair every five years, we want to make sure the chair grows with your child to accommodate changing needs. During the clinic, children and their caregivers get to "test drive" wheelchairs and equipment prior to selecting the most appropriate device. Getting a child into the correct size and style equipment is important so they're positioned properly and enjoy efficient mobility.
Wolfson Rehab in Action