Speech-Language Therapy
Speech-language pathologists assist children in communicating effectively with others and with difficulties eating or swallowing.
Working together with you
Speech-language pathologists at Wolfson Children's Hospital specialize in caring for infants and children who need help effectively communicating, eating or swallowing. These activities are vital for your child's health and happiness. Our licensed speech-language pathologists offer the latest evidence-based treatment to improve your child's quality of life.
We collaborate with physicians, other therapists and other healthcare professionals to identify communication and swallowing problems as early as possible to help your child overcome these issues.
Does my child need speech therapy?
Speech therapy may help if your child:
Is a late talker
Can only be understood by family members
Stutters
Drools excessively
Has trouble eating or swallowing
Has difficulty following directions or making needs and wants known
Has voice problems
Has difficulty communicating using verbal language
Conditions We Treat
The experienced speech-language pathologists at Wolfson Children's Hospital assist children with a wide range of conditions including or linked to:
Premature birth or low birth weight
Problems at birth affecting the mouth, jaw and breathing, such as cleft palate and Pierre Robin syndrome
Chronic medical conditions and genetic disorders such as heart defects, gastrointestinal disorders, - Down syndrome, and bronchopulmonary dysplasia
Condition or injury that affects the brain before, during or after birth
Developmental delays
Neurologic disorders
Autism spectrum disorder
Vocal pathologies (irregular vocal quality, pitch or loudness)
Childhood cancer and the effects of cancer treatment
Speech Therapy Services
We offer speech therapy services designed to fit your child's needs, age and maturity level. Our advanced services include:
Language activities to help children develop effective language skills
Articulation therapy to improve speech accuracy
Oral feeding and swallowing therapy for safe swallowing, to improve the amount and type of foods eaten, and to improve the mealtime experience for the child and family.
Augmentative and alternative communication
Bilingual services
Voice therapy
Fluency (stuttering) therapy
Stuttering
We are the only provider in Northeast Florida to use the SpeechEasy® Stuttering Device as a tool to to help children and adolescents who stutter. The SpeechEasy® device is worn like a hearing aid and plays back what your child is saying at higher pitch and with a slight delay. Hearing their voice this way can help children speak easier and more smoothly, giving them better confidence, freedom and self-reliance.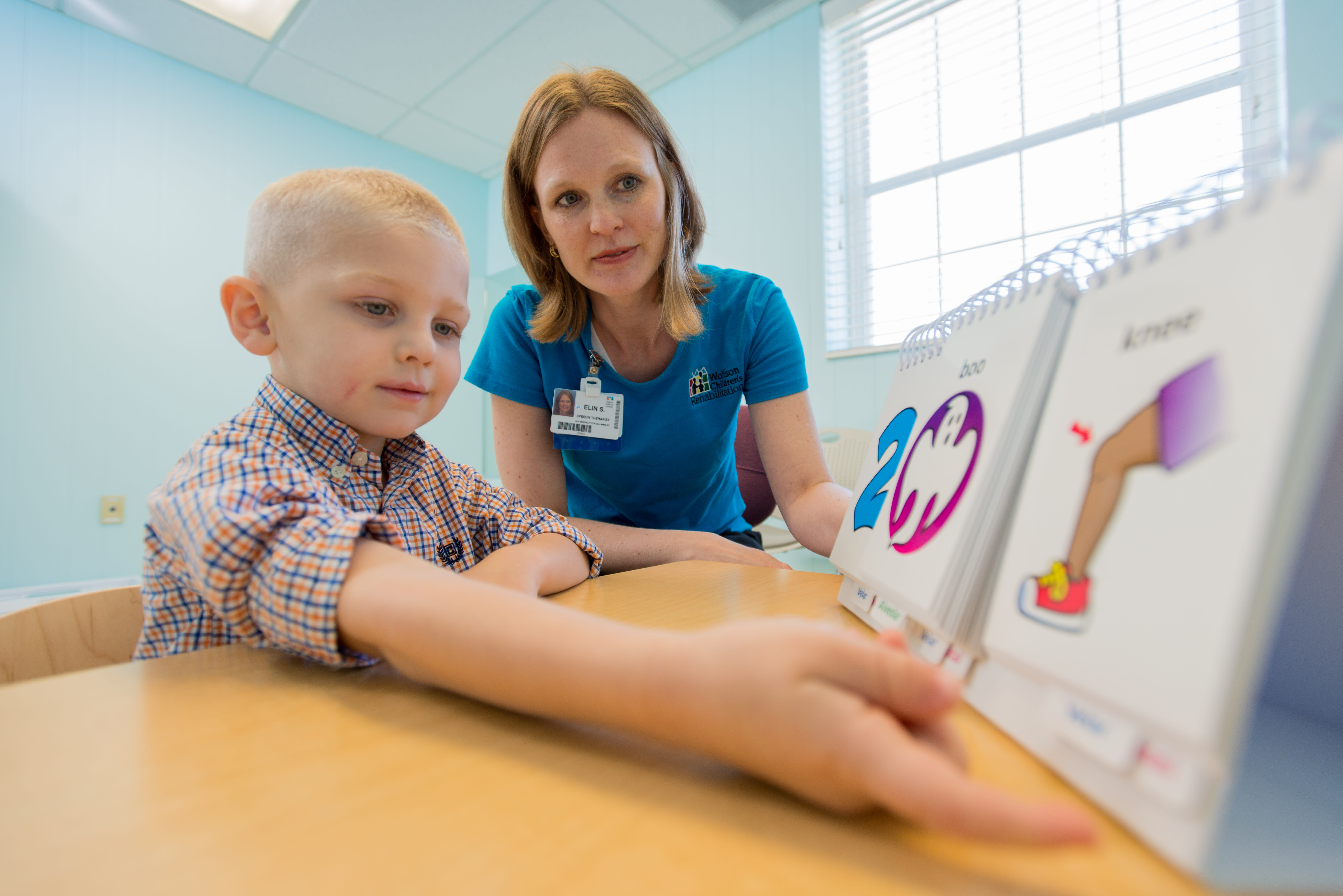 Speech therapy rehab is provided at these locations: