Leadership
The administrative team at Wolfson Children's Hospital guides the hospital in achieving its mission, offering valuable leadership that steers us toward improved patient care. Each experienced member of our administration is dedicated to using his or her skills and knowledge to help the children of our community.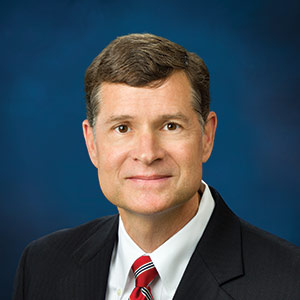 Michael D. Aubin, FACHE
President
Michael D. Aubin, FACHE, is hospital president of Wolfson Children's Hospital. Before joining Wolfson Children's in January 2011, Aubin served as the founding administrator/chief operating officer of St. Joseph's Children's Hospital of Tampa. Aubin helped to re-establish St. Joseph's Children's Hospital in 1990 after a 23-year hiatus.
Aubin holds a master's degree in health services administration from the University of Wisconsin – Madison. He is also a magna cum laude graduate of Providence College in Rhode Island, where he received his Bachelor of Science degree in health services administration.
Aubin is a fellow in the American College of Healthcare Executives. A longtime child advocate, Aubin has served as board president for the Florida Association of Children's Hospitals (FACH), is a member of its Board of Directors and is currently chair of its Advocacy Committee. He also serves on the national Children's Hospital Association's (CHA) Board of Trustees, the CHA Medicaid Reform Steering Committee, the CHA Executive Exchange Steering Committee and the Leadership Committee on Advocacy and Policy. For four years, he was co-chair of the Florida Hospital Association's Committee on the Uninsured and is a current member of their Strategic Planning Committee. He recently became a member of the Florida Healthy Kids Corporation's Operational Efficiency and Integration Committee.
Locally, Aubin is a JAX USA Partnership trustee and serves as board chair of the Jacksonville Sports Medicine Program. While in Tampa, he was on Board of Directors for the Kids HealthCare Foundation from 2006-2010, and served as a past Board of Trustees member and board chair for the Hillsborough County Healthy Start Coalition.
Aubin has been widely recognized for his work advocating for children and the health care access they deserve. In 2016, he received a Children's Champion Award from Episcopal Children's Services, which provides early education to children and families across Northeast Florida. In 2015, he received an Award of Merit from the Healing Hands Community Advisory Council (in support of the First Coast Child Protection Team) for his leadership in support of a new Child Abuse Fellowship Program, the first in the city and in the state. In 2014, he was named the R. David and I. Lorraine Thomas Child Advocate of the Year by the Jacksonville Florida Children's Home Society. For his work in international children's health, Aubin received the International Humanitarian Award from the Tampa Interbay Rotary Club and Rotary Gift of Life of Florida, Inc. in 2006.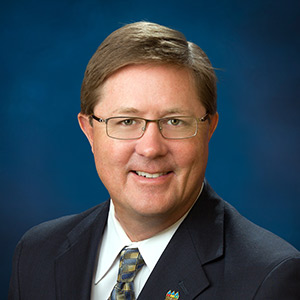 Jerry A. Bridgham, MD
Chief Medical Officer
Jerry A. Bridgham, MD, has served as chief medical officer for Wolfson Children's Hospital since November 2006. Dr. Bridgham is the president of the Florida Association of Children's Hospitals. He has served on the medical staff of Wolfson Children's Hospital since 1990 and on the medical staff of Baptist Medical Center South since its opening in 2005. He has been a partner in Mandarin Pediatric Associates, now a part of Baptist Primary Care, since 1990.
Dr. Bridgham has long been a leader at Wolfson Children's Hospital, serving as chief of the Section of General Pediatrics from 1997-1998, chief of staff-elect from 2001- 2002 and chief of staff from 2003-2004. He currently serves on Wolfson Children's Perinatal Advisory Board, which he chaired from 1999-2000.
Dr. Bridgham received his medical degree from the University of Miami and completed his residency in pediatrics at the Naval Hospital, Portsmouth, Virginia. He is board certified in pediatrics and is a fellow in the American Academy of Pediatrics.
Dr. Bridgham served in the U.S. Naval Reserve and achieved the rank of lieutenant commander. Duty stations included Jacksonville, Portsmouth and Keflavik, Iceland. He received the Navy Achievement Medal during his active duty service from 1983 to 1990.
Cicely (CC) Brooks, MSN, RN, C-EFM, NE-BC, FABC
Vice President, Patient Care Services & Chief Nurse Executive
Cicely (CC) Brooks, MSN, RN, C-EFM, NE-BC, FABC, serves as Wolfson Children's Hospital's Vice President, Patient Care Services and Chief Nurse Executive, as well as Baptist Health's Regional Leader for Perinatal Services.
Brooks joined Baptist Health in 2000 as a staff nurse in Baptist Medical Center Jacksonville's Labor and Delivery unit. She started her Baptist Health management career in 2007 in Women's Services. Since 2012 she has held progressively more responsible director-level leadership roles on Women's Services, Medical/Surgical Telemetry, Oncology, Perinatal and Pediatrics. She was later promoted to System Director for Perinatal Services for Baptist Health, a role in which she strategically guides all perinatal and neonatal services at all five Baptist Health Hospitals.
Brooks received her Bachelor of Science in Nursing from the University of North Florida. She was granted her Master of Science in Nursing Administration from Jacksonville University. Brooks is a member of the 2015-16 Advisory Board Executive Fellows group. She holds several certifications and is a Board-Certified Nurse Executive and Fellow of the Advisory Board.
Brooks has received numerous awards and honors, including being named among the 2015 Great 100 Nurses of Northeast Florida and the 2015 Jacksonville Business Journal 40 under 40.