Extracorporeal Membrane Oxygenation (ECMO)
If your child's condition prevents their heart and lungs from functioning properly, extracorporeal membrane oxygenation (ECMO) may be needed. This advanced technology allows heart and lungs to rest or heal while it does the work of oxygenating and circulating blood.
Why Wolfson
We are ECMO experts. Our program is a designated Gold Level Center for Excellence, which means we demonstrate high-quality standards, defined patient protocols, specialized equipment and advanced education of the team.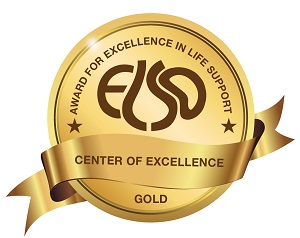 When is ECMO needed?
ECMO can help children from birth to 18 years old with these conditions:
Persistent Pulmonary Hypertension
Congenital Diaphragmatic Hernia
Meconium Aspiration Syndrome
Respiratory Distress Syndrome
Sepsis
Pneumonia
We offer the two types of ECMO:
VA ECMO
Venoarterial ECMO is used when both the lungs and heart need to rest and heal.
VV ECMO
Venovenous ECMO is used when the heart is functioning properly, but the lungs need to rest and heal.
A caring team
"We have a very experienced team of about 35 people that trains continuously so we can come together when a critically ill child needs it most. Each person puts their heart and soul into every child they care for, and as a result, many children who would not have survived without ECMO have gone home in good health. It's a privilege to be a part of this talented group."
Patient Stories
See how Baby Kason was able to catch a breath after lifesaving ECMO treatment.
St. Augustine infant makes rapid recovery from serious disorder following life-saving heart and lung support.