Parents Breathe Sigh of Relief After Son's 'Harrowing Experience'
St. Augustine, Florida — Sept. 5, 2017
Jimmy May set the alarm for 3:30 am. He wanted to give himself plenty of time to get his expectant wife, Mandy, to the hospital for her planned cesarean section at 7:30 am.
Charles Arthur May came into the world at 8:04 am on Monday, April 10, 2017. But minutes later, the six-pound, 10-ounce infant was struggling for his life.
"As soon as he was pulled from the womb, I noticed he wasn't crying. He was gasping for air," said May, who has been present throughout every one of his children's births. "They took him to a side room and called me in and told me that they needed to take him to their neonatal intensive care unit (NICU). I asked, 'Can my wife give him a kiss first?' ''
Almost immediately after that parting kiss, the May's newborn son had to be sedated so he could tolerate being placed on a ventilator. Less than 48 hours later, the baby was transferred to the high-level NICU at Wolfson Children's Hospital, where he was diagnosed with persistent pulmonary hypertension, a serious disorder in which the arteries to the lungs remain constricted after delivery, thus limiting the amount of blood flow to the lungs and oxygen to the bloodstream.
To remedy the situation, he was placed on extracorporeal membrane oxygenation (ECMO) to allow more time for his lungs and heart to rest and heal. With this advanced technology, blood from the newborn is circulated through a machine that adds oxygen, while removing carbon dioxide, and then returns the blood to the newborn. Wolfson Children's decade-long ECMO program was recently recognized as a Gold Level Center for Excellence in Life Support.
"Once he was hooked up to the machine, he showed great progress," recalled May, whose son was listed as critical when he arrived at Wolfson Children's in the early hours of Wednesday, April 12. "Between being on the ventilator and the ECMO machine, he was completely knocked out for six days. It was a harrowing experience, but he might not be with us today had it not been for the entire team at Wolfson Children's Hospital."
The Mays hardly ever left their son's side for three weeks. They slept at the nearby Ronald McDonald House and in Wolfson's mid-level NICU, which offers sleeping accommodations for the family not found in the main NICU. In all, their son was hospitalized for 20 consecutive days before being discharged with a clean bill of health.
Said Karen Grissinger, manager of the Wolfson Children's ECMO team who first informed the Mays why ECMO was medically necessary for their child: "Our community is so fortunate to have the ECMO program at Wolfson Children's. This life-saving technology gives hope to parents and children."
May, a senior tech support representative who works evenings from home and waits tables during the day so his wife can homeschool their children, said his son has doubled his weight since being reunited with his siblings. "He's doing much better now. He's breastfeeding, smiling and trying to talk," May added. "He looks like any other little boy."
Charles Arthur is named after his mother's father and grandfather, but May has a nickname for his four-month-old son. "Sometimes, I call just call him 'Miracle,' " he said.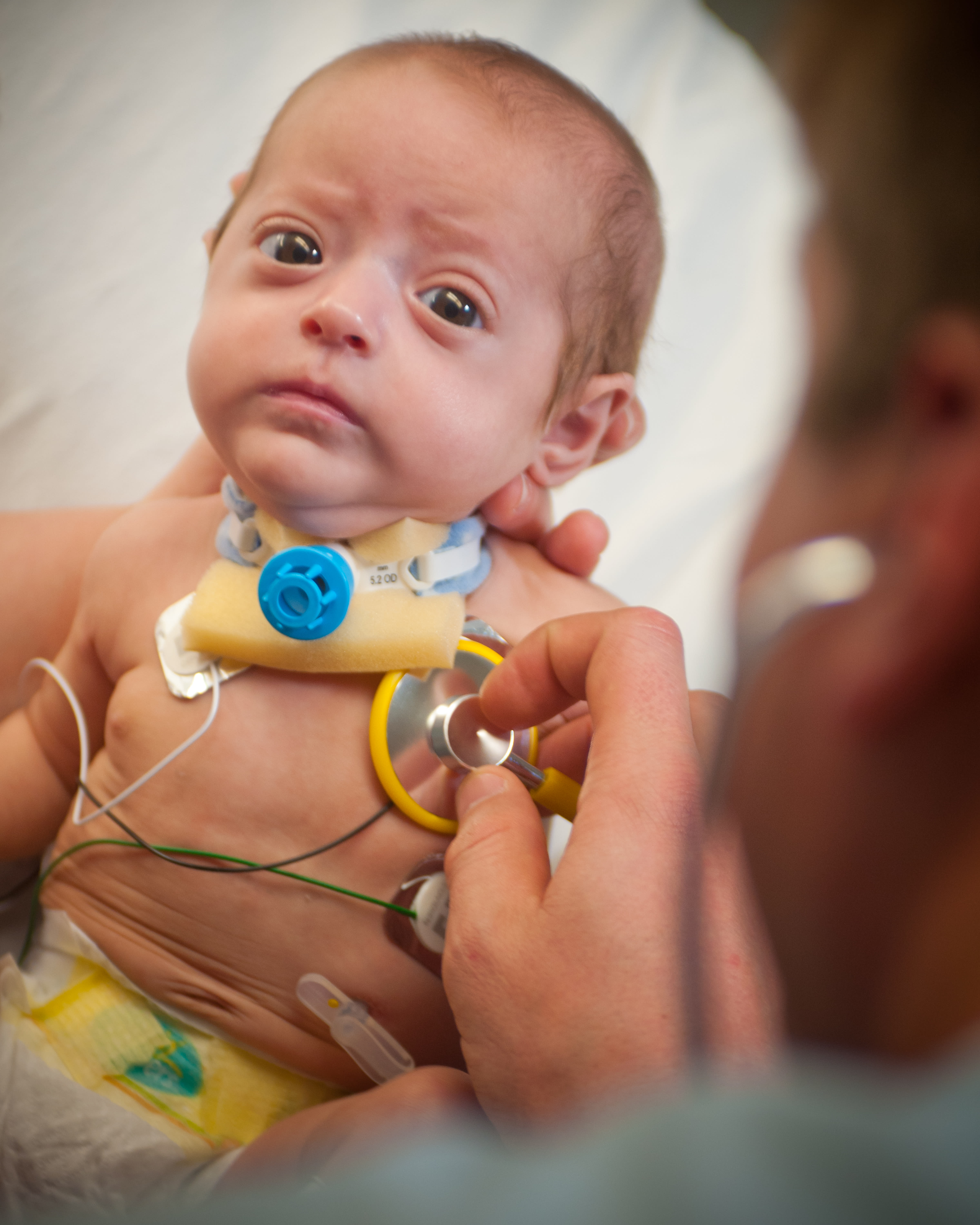 Giving to Wolfson Children's
As the only not-for-profit children's hospital in Northeast Florida, Wolfson Children's Hospital relies on the generous support of moms and dads, grandmas and grandpas, and others who care deeply about the health and well-being of kids in our region. You can help by making a secure online gift or by calling 904.202.2919.