High-Tech Pump Saves Newborn
Jacksonville, Florida – Nov. 13, 2016
At nine months into her pregnancy and five days past her June 2016 due date, Jacksonville mom-to-be Jennifer Lewis was ready to have her baby. When a visit to her doctor that day revealed she had slightly elevated blood pressure, the decision was made to induce, and baby Kason arrived eight hours later to greet the world. But after the first few moments with their new baby, she and husband, Chris, could tell that something just wasn't right.
"Kason came out and he was so beautiful, but then he started making gurgling noises," remembered Mrs. Lewis. "We only saw him for about five minutes before he was rushed out of the room in an incubator to the Neonatal Intensive Care Unit (NICU) at Wolfson Children's Hospital."
His heart was still beating but Kason had stopped breathing. The team gave him oxygen on the way to the NICU, which, thankfully, was right down the hall from the delivery room at Baptist Medical Center Jacksonville. The Lewises were told a short time later that Kason had passed his first bowel movement while still in the womb and inhaled it into his lungs, a serious condition called meconium aspiration syndrome (MAS), which happens in about three out of 1,000 births. The tarry substance was inflaming and blocking his airways, making it impossible for him take in enough oxygen to support his little body.
The neonatology team tried specialized ventilation and other treatments to help Kason, but it was quickly determined that his case would require the help of an advanced technology treatment called extracorporeal membrane oxygenation (ECMO). ECMO works by taking over the function of the lungs and sometimes the heart, too, allowing the organs to rest and recover from a reversible condition like MAS. Wolfson Children's Hospital is the only hospital in the area to offer this life-saving technology to children.
Since Kason's heart was OK, he only needed the ECMO machine to do the work for his lungs so they could "rest" for the time needed for them to heal, and for the nurses and respiratory therapists to gradually clear his airways out by careful, repeated suctioning. Kason's neonatologist had explained that ECMO was the only treatment remaining that could save their baby's life.
"It was such a scary time for us," said Lewis. "Without ECMO, Kason only had a 10 percent chance of surviving, but with it, his chances went up to about 85 percent. The possibility of brain damage was a growing concern because he wasn't getting enough oxygen, so that made our decision easier. The ECMO team was just phenomenal: dedicated, genuine and sincere. I could see they were absolutely determined to save my baby."
What is ECMO?
During Kason's ECMO process, blood was taken out of his body from the right side via a tube; circulated through the machine to remove carbon dioxide and add oxygen gases; warmed back up to body temperature; and returned to the right side of the heart, which then pumped the blood out to the body. This form of bypass, called venovenous, can be used in conditions where only the lungs need support, and if the heart is working properly. Patients who need support for both the lungs and the heart require a full bypass using a venoarterial method. This includes the use of a second tube that is placed through the neck into the aorta. The ECMO machine then takes over the function of the left side of the heart by pumping the newly oxygenated blood into the body under pressure.
"If we think the heart will work well enough, venovenous is our preference because it's less invasive, which is better for the child," said neonatologist Mark Hudak, MD, medical director of the ECMO program at Wolfson Children's Hospital and chair of the Department of Pediatrics at the University of Florida College of Medicine – Jacksonville. "The average ECMO treatment course for this condition is about five days, and once you get through the acute phase and allow time for the body to heal, the lungs gradually heal completely so there are not usually long-term health problems."
Dr. Hudak added that Wolfson Children's treats between three to seven babies with ECMO in the Level III NICU each year, and up to 15 pediatric patients in all three intensive care units combined (the NICU, Pediatric ICU and Cardiovascular ICU). Because the relatively few conditions that result in a need for ECMO in the NICU respond well to this treatment, NICU babies treated with ECMO have the highest survival rates. Children in the PICU and CVICU face a broader range of complex conditions that can be more difficult to treat, but Dr. Hudak noted, "on average over all conditions, the prognosis of survival is still good at between 50 and 70 percent."
Baby Kason is Breathing Easy
After three days on ECMO, Kason was able to be weaned off and supported with a traditional ventilator. Soon afterwards, his breathing tube was removed, and within less than a month, he went home with mom, dad and big sister Kendyl, 5. Today, he's a thriving 4-month old with parents who are breathing easier, too.
"We are so thankful that this amazing technology was available to him because it saved his life," Lewis said. "We also cannot express enough gratitude to the miracle workers of the ECMO team who worked on him around the clock and never left his side."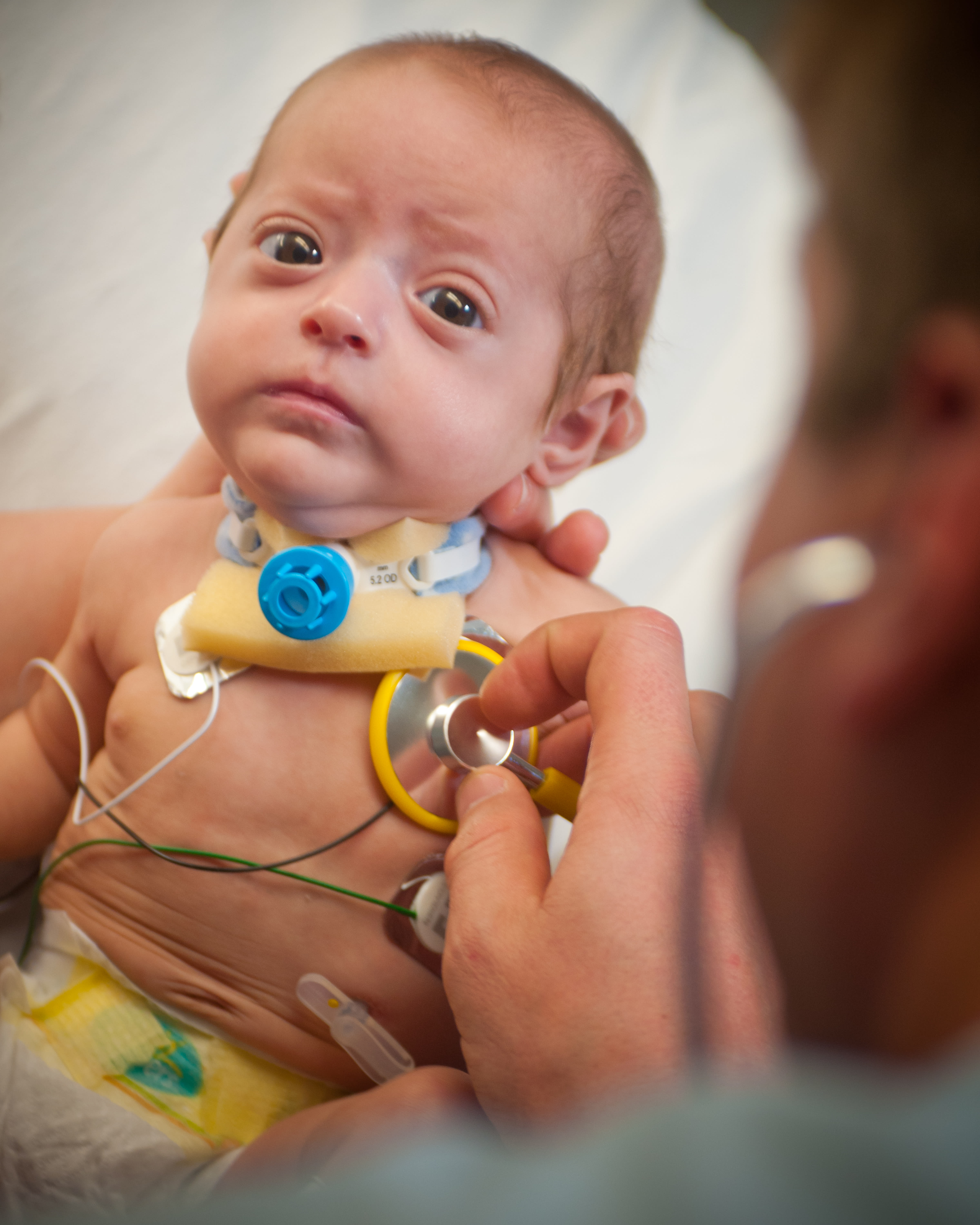 Giving to Wolfson Children's
As the only not-for-profit children's hospital in Northeast Florida, Wolfson Children's Hospital relies on the generous support of moms and dads, grandmas and grandpas, and others who care deeply about the health and well-being of kids in our region. You can help by making a secure online gift or by calling 904.202.2919.