Critical Care Transport
If your child is critically ill at another medical facility and needs transport to Wolfson Children's Hospital, you can trust us to provide safe transport with life-saving care along the way.
Experienced Teams
During transport, your child is cared for by nurses and respiratory therapists experienced in pediatric and newborn critical care.
Serving the Region
Covering the entire region in North Florida and South Georgia, our Kids Kare vehicles and helicopter safely transport more than 1,300 infants and children a year to Wolfson Children's for emergency critical care, trauma and specialty care.
Kids Kare Mobile ICU
Kids Kare is equipped with everything needed to care for critically ill infants and children of all ages:
Advanced monitoring
Defibrillator, IV pumps and medications
Neonatal/pediatric ventilators
Infant isolettes with warmers
Equipment for oxygenation and airway management
A parent may ride along if conditions allow. DVD players allow less critical patients to watch videos on longer trips.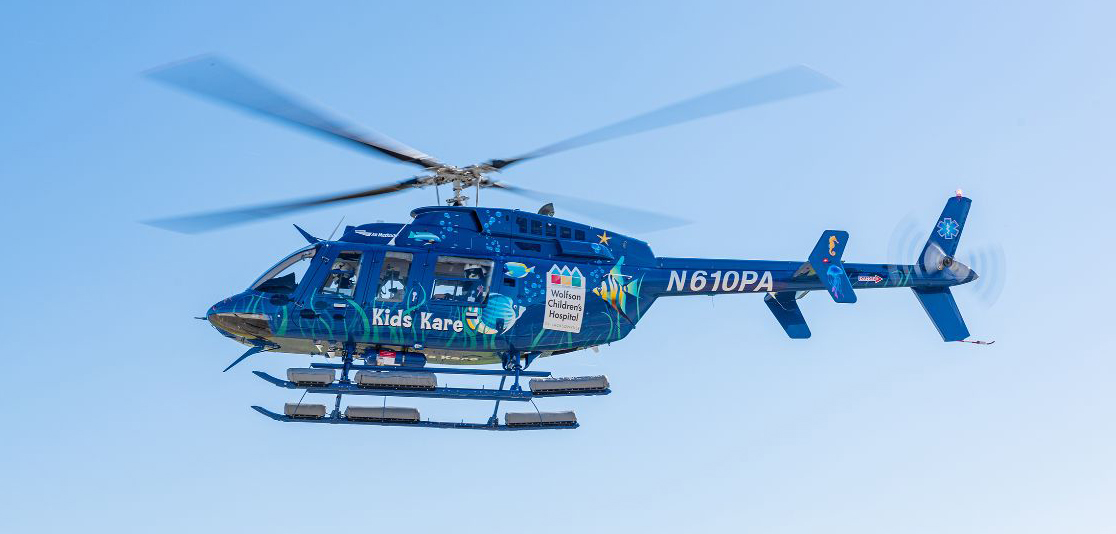 Kids Kare Helicopter
Carries pediatric-specific medical equipment for advanced life support, including:
Advanced monitoring
Defibrillator/pacemaker capability
Advanced airway management equipment
Isolette for newborns to regulate body temperature
Nitric oxide
The new Kids Kare helicopter is fully equipped with all medications and supplies needed to treat a critically ill or injured infant or child during transport. The helicopter also includes a satellite phone to ensure constant communication between the crew and pediatric physician specialists at Wolfson Children's during transport.
How to Arrange Transportation
Hospitals or referring physicians that need to arrange patient transport should call the Wolfson Children's Hospital Transfer Center 24/7.
With one call, you will be connected to an attending physician, who will determine your patient's eligibility and notify our patient transfer coordinator to immediately initiate patient transport via Kids Kare, Life Flight or airplane.
Patient Stories
How a close-by pediatric ER and Kids Kare Mobile ICU saved a Green Cove Springs baby's life.
Febrile seizures are fairly common. How quick diagnosis and treatment eased the minds of this baby boy's parents.