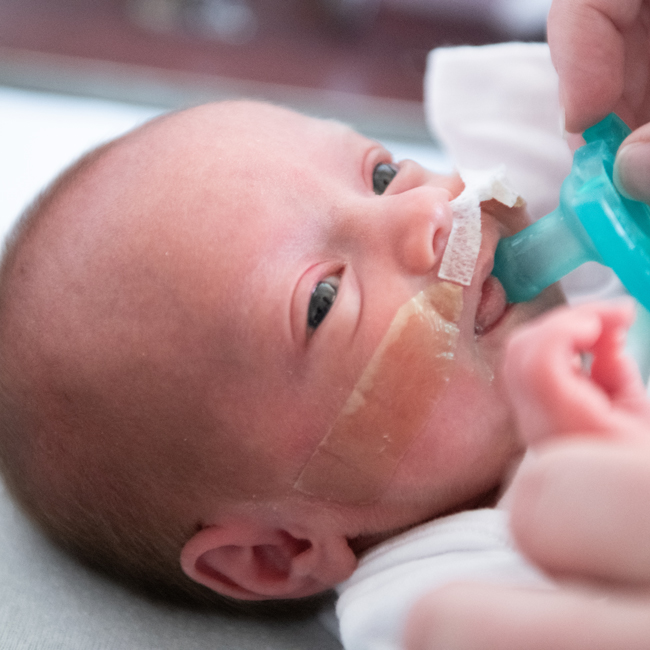 Congenital Diaphragmatic Hernia
This rare but serious birth defect is usually diagnosed during a routine prenatal ultrasound and interferes with vital organ location and development. Highly coordinated multi-specialist care is a must throughout your pregnancy, birth, and after your baby is born. Wolfson Children's Hospital is here to help.
Fetal Diagnosis and Therapy Center
The Fetal Diagnosis and Therapy Center is a multi-institutional collaboration between Baptist Health, Regional Obstetric Consultants (ROC), Nemours Children's Health, Jacksonville and University of Florida College of Medicine, Jacksonville. Learn more
Why Wolfson
We understand a diagnosis doesn't feel "rare" when it's your baby. Our Fetal Diagnosis and Therapy Center assembles the care team you, your baby and family will need while facing this complex medical situation.
Wolfson Children's Hospital provides cutting-edge technology, specialized experts, and state-of-art equipment at a single location. We're consistently ranked one of the best hospitals in the United States for children and our NICU is Level 4, the highest there is. Rest assured you and your baby are in good hands.
Wolfson Specialist Teams for CDH
You and your child's care team includes focused attention by the most practiced specialists around, and compassionate, family-centered care in our world-class facility.
Maternal/Fetal Care
Maternal/Fetal Medicine(Perinatologists)
Fetal Diagnosis and Therapy
Obstetricians
Adult Anesthesiologists
Adult/Pediatric Cardiologists
Fetal/Pediatric Radiologists
Obstetrical Nurses
Nurse Coordinator
Social Workers
Newborn/Child Care
Pediatric Anesthesiologists
Pediatric Surgeons
Neonatologists
Pediatric Cardiologists
Pediatric Pulmonologists
Pediatric Gastroenterologists
Pediatric Physical Medicine Physicians
Developmental Medicine Pediatricians
Neonatal Nursing
Neonatal Respiratory Therapy Technicians
Pediatric Nutritionists
Pediatric Occupational Therapists
Pediatric Speech Therapists
Fetal Diagnosis and Therapy Center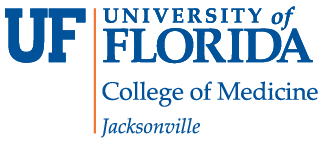 The Fetal Diagnosis and Therapy Center is a multi-institutional collaboration between Baptist Health, Regional Obstetric Consultants (ROC), Nemours Children's Health, Jacksonville and University of Florida College of Medicine, Jacksonville. Learn more
What to Look for in a CDH Center
Care for Mom

Specialists that are available to care for high risk deliveries in state-of-the-art delivery suites with obstetrical nursing and dedicated allied health personnel

Clinical Protocols

Established protocols provide reassurance that mom and baby will be taken care of with consistent excellence, regardless of the time of day or day of the week

Before and After Care

CDH care begins in pregnancy and continues after birth, into childhood and often into adulthood, with multiple specialists involved in a timely sequence

Pediatric Specialists

WCH provides a multidisciplinary CDH Team for long-term care after discharge
What is a Congenital Diaphragmatic Hernia (CDH)?
A rare birth defect that occurs in less than 5,000 births annually, Congenital Diaphragmatic Hernias create a hole in the muscle that separates the chest from the abdomen. This hole allows the abdominal organs to grow into the chest during fetal development and interferes with normal lung formation. Upon diagnosis, the condition is classified as mild, moderate or severe, depending on the degree of lung compression. Hernias may present on the left, right or anterior side of the diaphragm.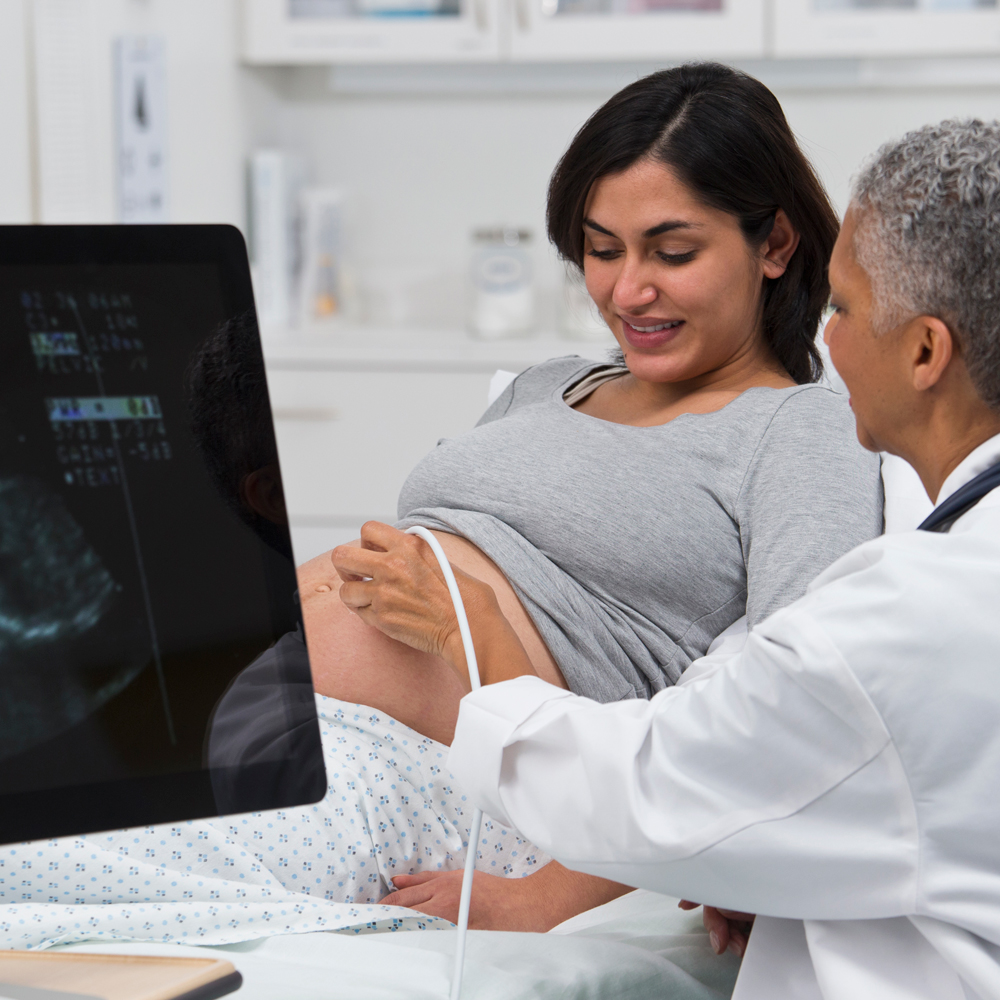 How is CDH diagnosed?
Routine fetal ultrasounds measure and identify where the vital organs are forming. Organ displacement triggers concern, as does the Lung to Head Ratio (LHR.) Stronger diagnostic imaging can locate the hernia and clarify the extent of the defect so that a treatment plan can be in place before the birth. Babies born with diaphragmatic hernias usually require extensive lung support at birth and plans should be made to deliver at a hospital with a Level 4 NICU.
Congenital Diaphragmatic Hernia Types
There are three different types of CDH, with the majority of them (95%) being what's known as a Bochdalek hernia. Morgagni hernias and diaphragm eventrations are rarer. Hernias are typed according to size and location. The surgeons and care team at Wolfson are equipped to treat all types of Congenital Diaphragmatic Hernia.
How does CDH change prenatal care?
Because your baby requires specialized treatment, your prenatal care will involve further evaluation. You'll transition from your obstetrician to a Perinatologist and consult with pediatric surgeons and organ specialists, coordinated by your Team Care at Wolfson's Center for Fetal Diagnosis and Therapy (CFDT). Expectant mothers usually undergo further ultrasounds and an MRI with a special computer program that measures your baby's lung-to-head ratio (LHR) and severity of lung compression. This combined effort will confirm the diagnosis and type, identify the severity of the defect, and assist in the planning for your baby's care after birth.
Where should a baby with CDH be delivered?
Due to the heightened risk of respiratory distress and other problems at birth, babies with CDH require delivery at a birth center attached to the highest-level NICU. The maternity suites at Baptist Jacksonville are adjacent to our Level 4 NICU. We're equipped with state-of-the-art equipment, teams of experts, and heart-lung bypass machines that can perform the work of the heart and lungs while these organs rest and develop.
What happens after a baby is born with CDH?
Depending on the severity of your baby's CDH, their long-term needs will vary. They will be assessed by experts on your care team, who will assess their lungs, feeding challenges, motor and neurocognitive development, and spine. The clinical team maintains contact with your pediatrician and provides long-term care.
Coming to Wolfson
Supportive and Family-Centered Care
Our experienced team understands the impact a medically sensitive situation can have on a family. We strive to attentively support your needs for timely information, easy access to resources, and a caring medical sequence.
Relocating to Jacksonville
If you elect to proceed and travel to Jacksonville, we're here to help answer your questions. The Nurse Coordinator for the Center for Fetal Diagnosis and Therapy (CFDT) will assist and facilitate your appointments and/or studies. Our Out-of Town Packet and Visitor Guide includes local directions, maps, air travel information, accommodations, and other services. Ronald McDonald House is located nearby.
Contact Us
Jill Craven, RN
Nurse Coordinator
Jill.Craven@bmcjax.com