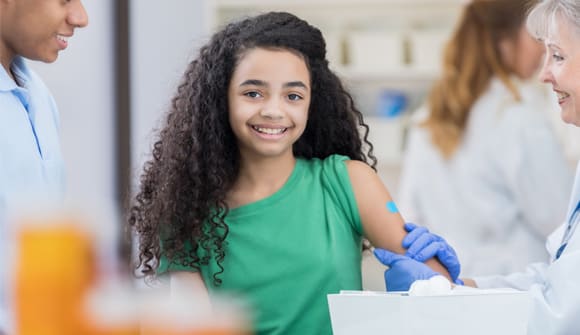 Allergy
If your child has asthma, an allergy, or a condition that affects their immune system, we can help.
Allergy & ENT
Wolfson Children's Hospital provides allergy services in partnership with Nemours Children's Health, Jacksonville. Learn more
Our goal is to help your child feel better, stay safe, and to equip you to manage your child's condition at home. From hay fever to food allergens, we've got you covered.
Why Wolfson
Our team of pediatric Allergists and ENT specialists has deep experience in a wide range of conditions that occur in childhood. From routine allergies to more complicated immunodeficiency disorders and everything in between, we offer comprehensive care across multiple medical fields so your child can feel better faster. Our pediatric allergists are board-certified and fellowship-trained to provide the highest level of care for simple to complex conditions.
Conditions We Treat
Your child's asthma symptoms could be related to a pulmonology (lung and respiratory) issue or allergen. We offer diagnostic testing, treatments, and active clinical trials for asthma and allergies. Some of the many conditions we treat include:
Asthma
Eczema
Lung function
Reoccurring cold symptoms
Hives
Treatment and follow-ups for children with immune system-related conditions
Diagnosis and Treatment
We offer skin scratch testing, patch testing, food challenges, and tests for drug and medication allergies. We can also test to see how well your child's lungs are working. We use biologic treatments — special medicines made from protein in the body, as well as team collaboration with doctors in other fields, to find out what's causing your child's symptoms.
We work closely with families and specialize in kids.
Allergy & ENT

Our Locations
Most office visits are at Nemours Children's Health, Jacksonville, and any surgeries or overnight stays are at Wolfson Children's Hospital. Both are located on the south bank of the St. Johns River in Jacksonville, connected by Kids Walk.
800 Prudential Drive
Jacksonville, FL 32207
1747 Baptist Clay Drive
Suite 130
Fleming Island, FL 32003
Community Asthma Partnership at Wolfson
THE PLAYERS Center for Child Health
3563 Philips Highway
Suite 502
Jacksonville, FL 32207
904.202.5132