Newborn With Rare Pituitary Tumor Celebrates 1st Birthday After Successful Brain Surgery
Jacksonville, Florida — July 5, 2017
Pituitary tumors are rare, especially in newborns. How Olivia Schmidt's timely diagnosis may have saved her life.
Several weeks before Jennifer Schmidt was due, her baby girl went into the breech position. Plans for a natural water birth gave way to a safer C-section.
The turn of events disappointed the first-time mother-to-be, but Schmidt soon saw that it had been a blessing in disguise. When Olivia was born in August 2016, she was severely anemic and had extremely low blood sugar.
"Within four hours of her birth, Olivia's condition began to disintegrate," Schmidt recalled. "Had we done the natural birth and been sent home within a few hours, a lot of things could have gone wrong. That was the beginning of what we feel has been a series of miracles for our little girl."
Rushed to the Neonatal Intensive Care Unit, Olivia was given several blood transfusions. While the transfusions fixed her anemia, her blood sugar never quite normalized.
Josef Cortez, MD, a neonatologist with the University of Florida College of Medicine – Jacksonville, had a hunch that something wasn't right, even though Olivia's levels were only a little off. He transferred her to Wolfson Children's Hospital, where Nelly Mauras, MD, director of the Diabetes and Endocrinology Institute at Nemours Children's Specialty Care, Jacksonville, and Wolfson Children's, discovered the problem.
"Tests showed that her pituitary gland wasn't functioning appropriately because there was a tumor on it," Schmidt recalled. "Three days after that, our little girl was having brain surgery."
Olivia had a craniopharyngioma, a brain tumor that forms near or on the pituitary gland, impacting many bodily functions including metabolism, blood pressure, growth and reproduction.
Not only are the tumors rare, they're not usually found in newborns. But because it was identified early, it could be treated before it caused any more damage to Olivia's developing body.
"Chemotherapy and radiation were risky to her developing brain because she was so young, so we made the decision to remove it," said Philipp Aldana, MD, pediatric neurosurgeon at UF College of Medicine – Jacksonville, and co-medical director of the Stys Neuroscience Institute at Wolfson Children's. "With craniopharyngiomas, surgery is only effective if we can remove the entire tumor because of the high likelihood that it will come back."
During the delicate six-hour surgery, Dr. Aldana and his pediatric neurosurgery team went in through Olivia's forehead and carefully made their way underneath the lobes of her brain, navigating around critical structures like the optic nerves and carotid arteries. Once at the site, they removed the entire blueberry-sized tumor, along with her pituitary gland.
As a consequence, Olivia will be on life-long hormone replacement. But having the surgery at such a young age spares her from the many developmental delays she would have endured otherwise.
In addition, the growing tumor would eventually have caused problems like vision loss and headaches as it pressed on surrounding tissues.
"There is always a small chance of recurrence so we will continue to monitor Olivia with regular MRIs, but her prognosis is good," Dr. Aldana said. She will be followed by the pediatric oncology team at the Neuro-Oncology Center at the Stys Neuroscience Institute at Wolfson Children's.
As she approaches her first birthday, Olivia continues to keep up with developmental milestones. And she's keeping big smiles on her parents' faces.
"God's hand has been on her since the beginning, but we also had the most talented and caring medical team who were truly dedicated to her success," Schmidt said. "Just like we prayed for, our little girl is one in a million."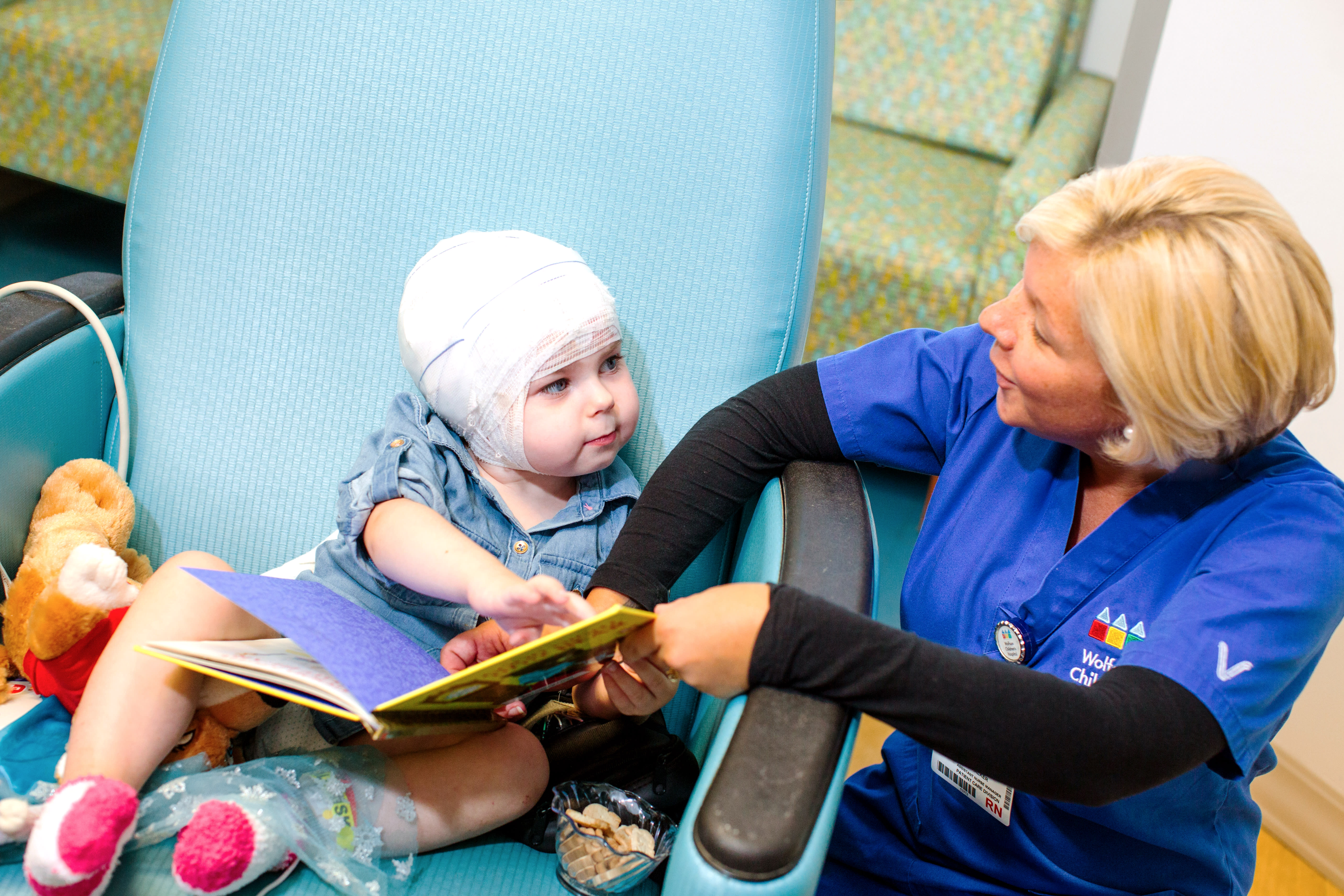 Giving to Wolfson Children's
As the only not-for-profit children's hospital in Northeast Florida, Wolfson Children's Hospital relies on the generous support of moms and dads, grandmas and grandpas, and others who care deeply about the health and well-being of kids in our region. You can help by making a secure online gift or by calling 904.202.2919.