Teen Fights Cystic Fibrosis After Late, Life-Changing Diagnosis
Jacksonville, Florida — Feb. 10, 2015
For the first decade of her life, 14-year-old Orange Park resident Tate Towsley and her parents were blissfully unaware that she had a serious illness. Always an active girl, Tate played with her friends at school, rode her scooter and even served as manager of the volleyball team at Lakeside Junior High.
But looking back, Tate's mother Rowena says there were subtle signs along the way and some misdiagnoses that threw them off, keeping them from finding out that Tate had cystic fibrosis (CF).
With the exception of a few bothersome digestion issues that lead to loose stools, abdominal pain and weight loss, which they attributed to lactose intolerance, it wasn't until Tate suffered from a resistant case of pneumonia in December 2010, and a pulmonologist became involved that the red flags finally waved.
After a series of tests confirmed the diagnosis, including a sweat chloride test that detects the higher amounts of sodium and chloride prevalent in the perspiration of those with CF, the family grappled not only with the startling diagnosis but what it meant for Tate.
"It was a scary time for us," said Rowena. "Tate had never even been in the hospital before – she was always just our little girl running around, active. To find out that she had a chronic, life-threatening illness was an emotional shift for all of us."
CF is a disease that affects the cells that make mucus, sweat and digestive juices, causing them to be too thick and sticky. These secretions clog up passageways in the body, especially passageways in the lungs and pancreas. It's an inherited disorder but because Rowena was adopted, part of the family's medical background was undetermined. Most children with CF are diagnosed before the age of two.
"Unfortunately, Tate was born before newborn screening for cystic fibrosis was routine and she just wasn't diagnosed until she was 11," said Bonnie Hudak, MD, a pediatric pulmonologist with Nemours Children's Health, Jacksonville and Wolfson Children's Hospital. "Since then, she has required frequent admissions for pulmonary treatment. When she is feeling well, she is very energetic and enthusiastic, and is a favorite of doctors and staff."
At first, Tate began a series of occasional antibiotic treatments in the hospital but over the last few years, her need for these treatments has become more frequent. Every other month since April 2014, Tate has been undergoing a series of 2-3 week "tune-up" hospitalizations during which she receives a course of IV antibiotics to fight the bacteria in her lungs, and airway clearance treatments to help loosen and clear out some of the thick mucus.
She faces additional challenges with her treatment due to allergic reactions to some of the antibiotics. In December 2014, surgeons at Wolfson Children's performed a lobectomy on her left lung to remove damaged tissue suspected of harboring bacteria and hampering her ability to fight infection.
"She had some damage in the left lung and they think that might have been due to the late diagnosis," said Rowena. "She was getting sick so often and running fevers with it, which isn't typical."
And before her surgery, the staff on her unit threw Tate a "Lobectomy Luau," complete with a tropical theme and cupcakes.
"I've met a lot of nice people, and they take really great care of me," said Tate. "I try to have a positive attitude and push through the tough times but I always stay hopeful."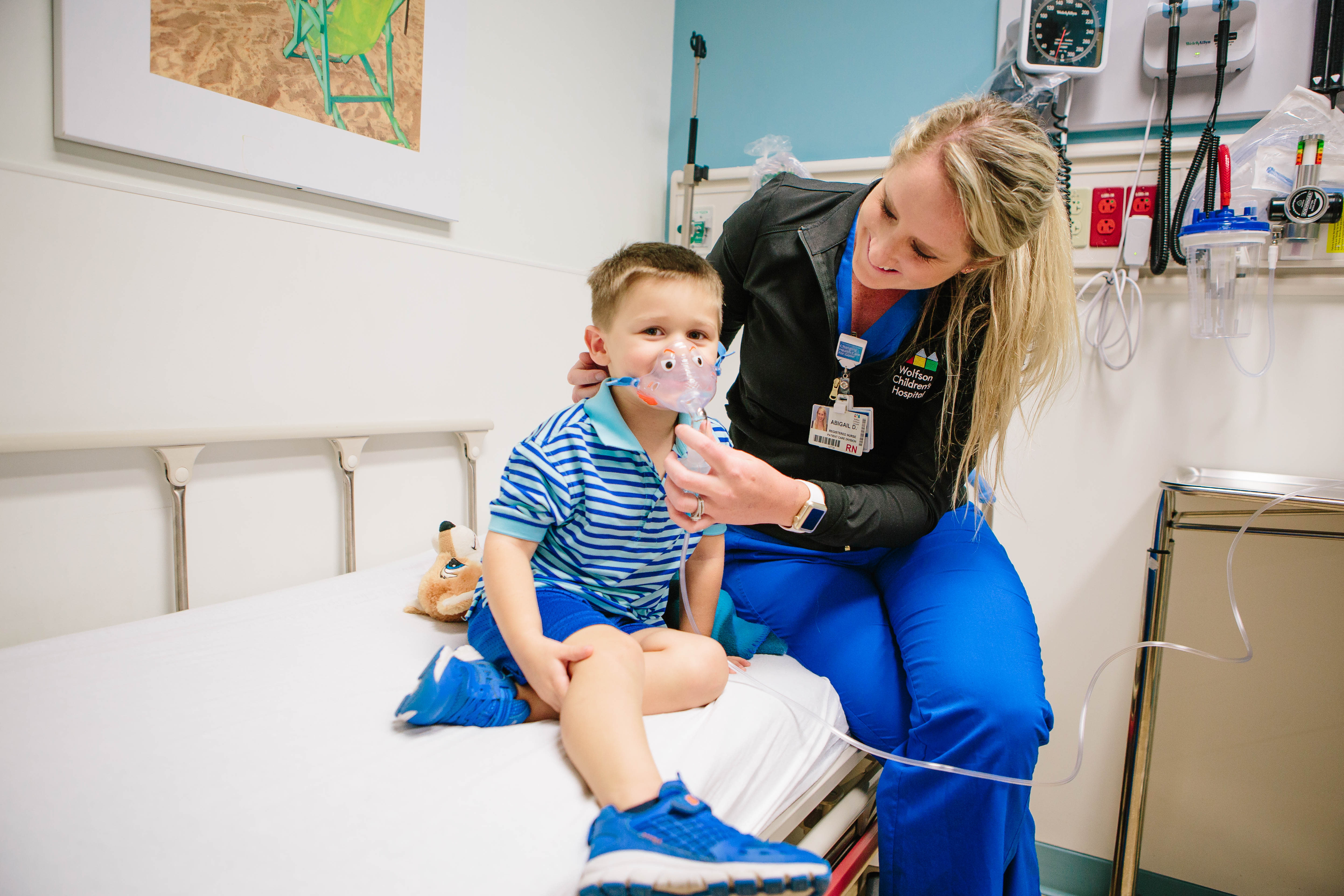 Giving to Wolfson Children's
As the only not-for-profit children's hospital in Northeast Florida, Wolfson Children's Hospital relies on the generous support of moms and dads, grandmas and grandpas, and others who care deeply about the health and well-being of kids in our region. You can help by making a secure online gift or by calling 904.202.2919.