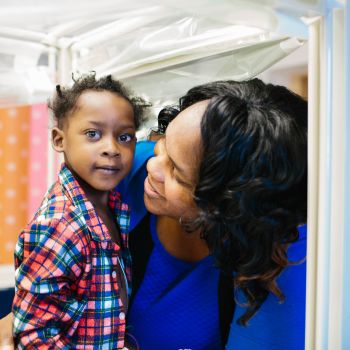 Heart Rhythm Disorders
At Wolfson Children's Hospital, our expert pediatric electrophysiologists offer diagnosis, advanced treatment and monitoring of heart rhythm disorders (arrhythmias). Using the latest medicines and therapies, we strive to keep your child's heart in rhythm so they can live a healthy life at their own pace.
C. Herman and Mary Virginia Terry Heart Institute
What is arrhythmia?
Arrhythmia occurs when your child's heart beats too fast, too slowly, or irregularly. Some arrhythmias are temporary and don't pose any risks to your child's health, while others are more serious.
Conditions We Treat
Based on the results of your child's tests, our Terry Heart Institute pediatric cardiologists may diagnose one of many conditions that can cause arrhythmias. Some of the heart rhythm disorders we treat are:
Atrial Fibrillation
Bradycardia
Ventricular fibrillation
Long QT Syndrome (LQTS)
Supraventricular Tachycardia (SVT)
Sick sinus syndrome
Ventricular Tachycardia (VT)
Wolff-Parkinson-White Syndrome (WPW)
Cardiac Catheterization Laboratory
Sometimes catheters are used for diagnosis or treatment of heart rhythm disorders. Specialists in our Cardiac Lab use the most advanced technology to perform these minimally invasive procedures.
Cardiac Catheterizations in 2019
Diagnosis
If your child shows symptoms of a heart problem, expert pediatric cardiologists at Wolfson Children's Hospital use advanced tests to uncover heart rhythm problems and determine the proper treatment to get your child's heart back in beat.
Electrocardiogram (ECG)
Holter monitor
Echocardiogram
Electrophysiology testing
Tilt table
Exercise stress testing
Microvolt T-wave alternans testing
Treatment
Depending on your child's condition, the arrhythmia team uses advanced treatments, which can include:
Medicine
Radiofrequency ablation
Automatic implantable cardiac defibrillators
Permanent pacemakers
CryoTherapy
High-resolution heart mapping
Our arrhythmia clinic is staffed by highly skilled pediatric electro­physiologists that know just how little hearts work. Not only can they diagnose and treat your child's arrhythmia, but they will talk to you about activities or medicines that should be avoided. Their expertise ensures that your child receives the right treatment for the best chance at an active and healthy childhood.
Patient Stories
Teen martial artist living a normal life after treatment for rare heart condition.
Teen makes full recovery after heart rhythm diagnosis.