Adult Congenital Heart Defects
With continued advances in medical and surgical care, more and more children with congenital heart defects are surviving into adulthood — and thriving.
Adult Congenital Heart Defect Program
The highly-trained experts in our Adult Congenital Heart Program at Wolfson Children's Hospital are here to offer you the latest in advanced treatments that allow you to live life to the fullest.
Outpatient care for adults with congenital heart disease "(CHD)" includes a range of non-invasive and interventional diagnostic and treatment options. Outpatient care is provided at Wolfson Children's Terry Heart Institute in Jacksonville, Florida, and also at other locations throughout North Florida and South Georgia.
C. Herman and Mary Virginia Terry Heart Institute
Experience Matters
You can rest assured knowing everyone at the Wolfson Children's Terry Heart Institute — doctors, nurses, technologists and other team members — has vast experience providing lifesaving cardiac care to children of all ages. Every year, Wolfson Children's cardiovascular experts provide care and management of congenital heart disease in our state-of-the-art facilities for more than 8,000 children and adults for a wide range of heart conditions.
Cardiac Diagnostics
To ensure proper diagnosis and management of an individual's congenital heart disease, diagnostic tests may include a chest X-ray, EKG, echocardiogram or other diagnostic procedures. Additional non-invasive testing may include stress tests, metabolic stress tests, cardiac MRI and CT angiography.
Echocardiography
Our Echocardiography Laboratories are fully accredited in transthoracic, transesophageal and intracardiac echocardiography.
Cardiac Catheterization
Our Cardiac Catheterization Laboratory features advanced digital technology used to identify congenital heart disease and repair certain types of heart defects without the need for more invasive heart surgery. New and advanced interventional catheterization techniques also are used to implant pulmonary valves and to completely close a patent foramen ovale or patent ductus arteriosus.
Electrophysiology
Adults with congenital heart disease have a significant risk to develop heart rhythm abnormalities. The most advanced 3-D mapping technology is available for our congenital electrophysiologists to locate and eliminate arrhythmias "(heart rhythm irregularities)" related to scars from previous heart surgery. In addition, the most advanced implantable devices are available to restore normal heart rhythm with a pacemaker or automatic internal cardiac defibrillator.
Conditions We Treat
Our team performs surgeries to address a variety of heart defects, including:
Atrial septal defects
Ventricular septal defects
Transposition of the great arteries
Aortic and mitral valve disease
Total anomalous pulmonary venous connections
Tetralogy of Fallot
Atrioventricular canal defects
Double-outlet right ventricle
Coarctation of the aorta
Truncus arteriosus
Single ventricle palliation
Ebstein's anomaly
Vascular rings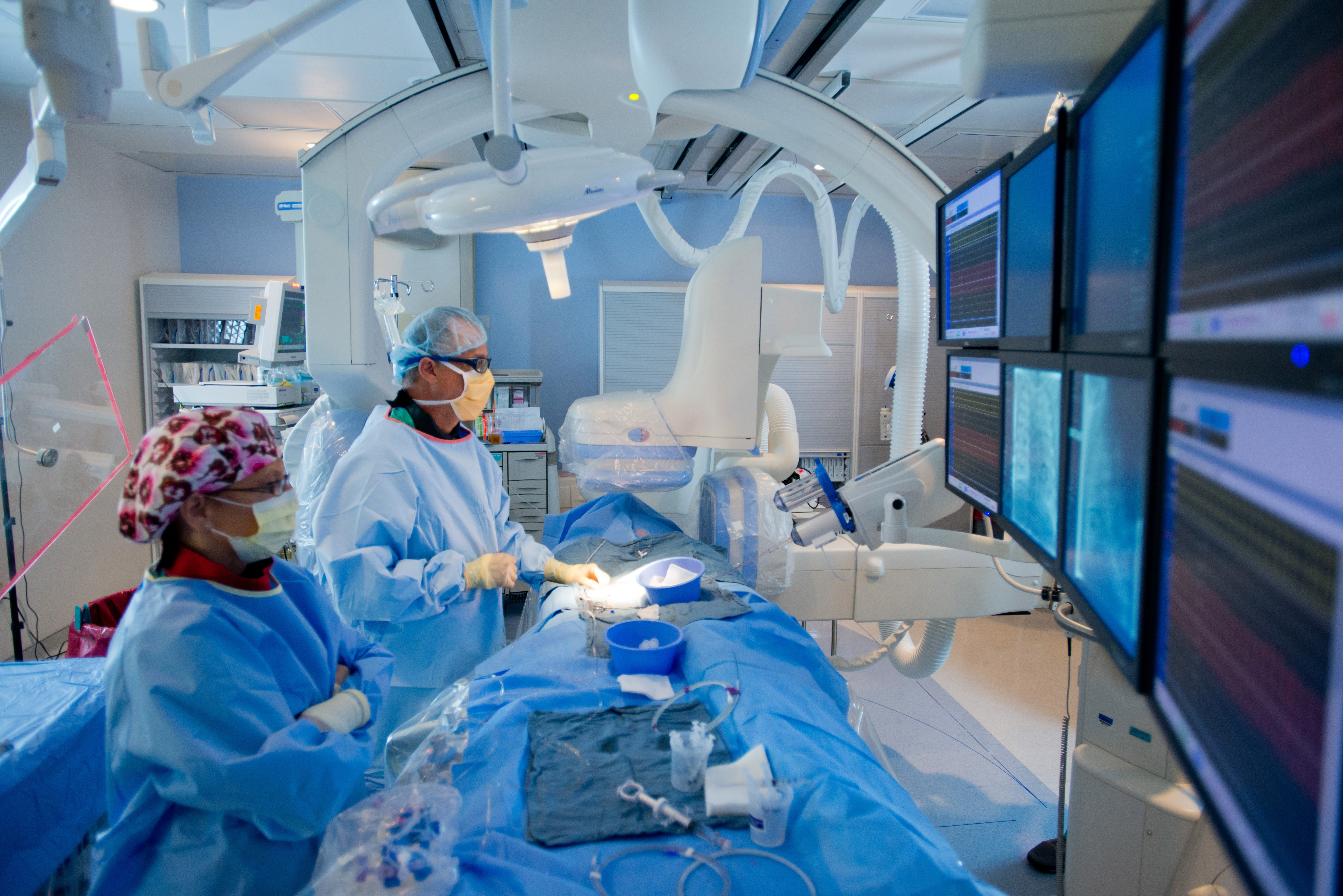 Adult Congenital Heart Surgery
Our congenital cardiothoracic surgeons specialize in treating people with CHD who need surgical repair, either for the first time in adulthood or to revise previous surgeries for heart defects that may have been performed in childhood. Our Cardiovascular Surgery Program meets or exceeds national standards for patient outcomes.
Pre-Pregnancy Genetic Counseling
If you are a woman considering pregnancy and you've had any heart conditions or heart surgery when younger, our genetic counselors can help determine the likelihood of passing on a congenital heart condition to a child. We can also can help women determine potential risks so they can make an informed decision before attempting pregnancy.
Care for Expectant Mothers with CHD
For women with CHD who are already pregnant, our congenital heart specialists and cardiac imaging experts work with obstetricians or perinatologists (high-risk obstetricians) to co-manage the expectant mother's care for the best possible outcome – for the mom and her unborn child.
Learn more
Our Adult Congenital Heart Program's multidisciplinary team works with adults living with congenital heart disease to create a personalized treatment plan. The team collaborates with the patient's primary care physician and cardiologist to manage overall health and well-being.

We provide outstanding heart care for adult congenital heart patients in Jacksonville and at satellite locations throughout North Florida and South Georgia, so help is never far from home.
Patient Stories
Putting Heart Into Motherhood

Rebecca overcame multiple defects, surgeries and a groundbreaking procedure to fulfill her dream of motherhood.

Read Rebecca's Story

A Fulfilling Life

Advancements in treatment and care are helping Jennifer thrive in adulthood with a heart condition diagnosed in 1969.

Read Jennifer's Story