Jacksonville Girl Hopes for Epilepsy Cure With Surgery
Jacksonville, Florida — May 22, 2016
Jacksonville's Madison Copeland, now seven years old, already had the odds stacked against her when she was born with hydrocephalus, a condition that occurs when fluid builds up in the skull and caauses the brain to swell. At only four weeks old, she had a shunt placed in her brain at Wolfson Children's Hospital to help drain the cerebrospinal fluid from around her brain.
At around the age of two, her mother Kimberly Copeland said Madison was diagnosed with autism and also needed to have a shunt replacement to ensure fluid didn't accumulate on her brain. This time, she received a programmable shunt to control the pressure on her brain without the need for more brain surgery.
Not long after Madison's autism diagnosis, Ms. Copeland noticed her daughter having some facial twitches that she couldn't control. Because Madison is nonverbal, her mom had to rely on her parental instincts to know something was wrong. Although the symptoms were infrequent, she took her daughter to pediatric neurologist Harry Abram, MD, at Nemours Children's Health, Jacksonville. He advised regular monitoring, but told Ms. Copeland that he didn't believe the unusual symptoms were related to her shunt or hydrocephalus.
Shortly after her third birthday, Madison experienced her first seizure. "When she woke up, she was lethargic," remembers Ms. Copeland. "It was like she was there but she wasn't there. I had never seen her look the way she did. She was doing a lot of twitching on the left side of her body and I thought she was having a stroke."
Ms. Copeland called 911, and an ambulance took her straight to the Wolfson Children's Emergency Center in Jacksonville. The pediatric emergency medicine physician there admitted Madison directly to the Neuroscience Unit at Wolfson Children's Hospital, where she had 24-hour EEG monitoring for two days. She was diagnosed with epilepsy, specifically focal (partial) seizures. Dr. Abram prescribed medication to control the seizures, but at a follow-up visit, Ms. Copeland said Madison became aggressive and was prescribed a different seizure medication.
"While the doctor was adjusting medication doses, Madison continued to have seizures," she remembered. "She would have them when she woke up from a nap or in the middle of the night after she'd had an exciting or stimulating day."
Madison was on six different medications, but they still weren't controlling her seizures. Dr. Abram referred Madison to the Lucy Gooding Children's Neurosurgery Center pediatric neurosurgeon Alexandra Beier, DO, to consider next steps.
Dr. Abram, chief of Pediatric Neurology at Wolfson Children's Hospital, said, "We are able to control most children's epilepsy with anti-seizure medications. However, for about one-third of children, these medications do not fully work or the child has intolerable side effects."
"After reviewing Madison's medical history and seeing images from her diagnostic testing, I felt she would be a strong candidate for epilepsy surgery," remembered Dr. Beier, who is with the University of Florida College of Medicine, Jacksonville and on the medical staff of Wolfson Children's Hospital. "The hope is if you can remove the part of the brain responsible for the seizures, the child can go on to have a more normal life, free of seizures."
"Madison's family was desperate for help with her seizures, which involved falls and injuries," said Nemours pediatric epileptologist Raj Sheth, MD, co-medical director of the Walter and Michelle Stys Neuroscience Institute at Wolfson Children's. "The seizures were becoming more severe as well, and her Mom was increasingly worried as to her quality of life and that she would grow up having weekly seizures. The family was looking for alternatives that would stop the seizures."
Dr. Beier ordered a number of tests leading up to surgery, working closely with Dr. Abram and Dr. Sheth, all part of the Epilepsy Center at the Stys Neuroscience Institute team at Wolfson Children's Hospital.
"The doctors recognized that Madison's seizures were originating from a particular part of the right side of her brain, and from that point, they focused on that," said Ms. Copeland.
Madison's first surgery was scheduled for Monday, July 20, 2015. "Dr. Beier wanted to give her healing time to go back to school and since I'm a teacher, I was out for the summer," said Ms. Copeland.
During the five-hour procedure, Dr. Beier affixed a grid over Madison's brain guided by EEG results and imaging scans. "Madison had six seizures by Wednesday, which was strange to witness, but I knew she was headed toward the cure," said Ms. Copeland. "By Thursday morning, Dr. Sheth was able to provide specific details to me, showing me scans and a video of Madison's brain activity."
Madison's second surgery was scheduled for that Friday to remove the precise seizure focus from her brain. Everything went as planned, and she was admitted to the Pediatric Intensive Care Unit at Wolfson Children's for recovery. "By Sunday, Madison was alert and up and walking. Her spirit was amazing!" By Monday, she was transferred to the Neuroscience Unit on the fifth floor at Wolfson, and was discharged from the hospital three days later.
Dr. Abram said he is happy for Madison and her family that the surgery was so successful, "Some patients go will go for years of experiencing side effects and seizures before they are offered a chance for a cure through epilepsy surgery," he stated. "We are very fortunate that we were able to offer Madison this opportunity at a young age and so close to home."
"Since surgery, Madison has only had one mild seizure," said Ms. Copeland. "She is still on three medications. During the healing process, Dr. Sheth explained, if the brain tries to trigger a seizure, the medication is there as a fire extinguisher to put the fire out right away. Madison will be on medication for the time being, but the hope is she will go off of them completely in the future. We're going slow."
Ms. Copeland relied on the support of her family and the Neuroscience Team. "I've never had a mediocre experience with Wolfson anywhere, from the ER to the fifth floor. From the therapists to the nurses, from the doctors, residents and volunteers, it's been a great experience. If I had to do it over again, I wouldn't change anything."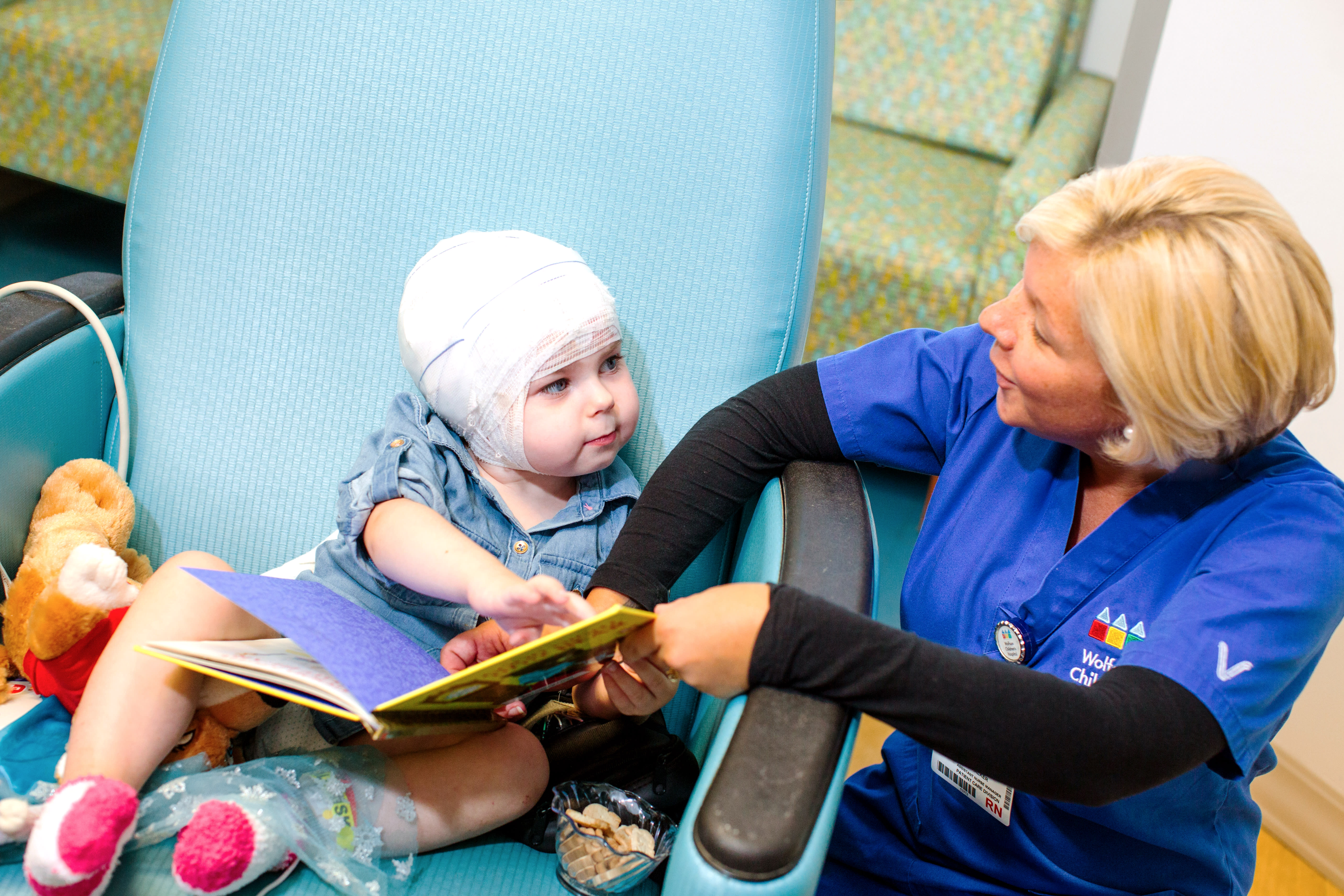 Giving to Wolfson Children's
As the only not-for-profit children's hospital in Northeast Florida, Wolfson Children's Hospital relies on the generous support of moms and dads, grandmas and grandpas, and others who care deeply about the health and well-being of kids in our region. You can help by making a secure online gift or by calling 904.202.2919.