Middleburg Teenager Back in School Less Than a Month After Complex Brain Surgery
Clay County, Florida — Jan. 7, 2015
On a Sunday afternoon in mid-August, 14-year-old Jacob Warner was taking a break from shooting hoops to kick back with his family for movie night in their Clay County home. A jokester with a tendency for messing with parents Stacy and Tony, they assumed Jacob was just playing around when he started acting strange. It didn't take long for them to realize that it was not a stunt.
"While we were watching the movie he just fell over and started making really loud snoring noises," says Stacy. "We thought he was kidding around until we noticed he was foaming at the mouth and sweaty all over like he'd just run a marathon. That's when I knew something wasn't right, and I called the ambulance."
Jacob was a typical teenage boy with no prior health issues, so everyone was shocked as paramedics arrived to take him to Wolfson Children's Hospital. Once there, all initial tests came back inconclusive so he was sent home with an appointment for an MRI to further evaluate the cause of his seizure. On August 19, Jacob's test found a peanut-sized mass in his brain above his left ear and first thing the next morning, he and his parents met with UF Jacksonville pediatric neurosurgeon Philipp Aldana, MD, chief of the Lucy Gooding Children's Neurosurgery Center at Wolfson Children's Hospital.
"As soon as we got the MRI done they admitted him immediately and told us he was going to need surgery," says Stacy.
The MRI scan could not confirm if the mass was a tumor or an infection, but either way it needed to be removed. That same day, using an advanced computer-assisted, image-guided technology called the STEALTH System, Dr. Aldana slowly made his way into Jacob's brain with the help of GPS-like navigation showing him his exact location in relation to the mass with an image projected right onto the screen of his microscope probe. Going in through one of the crevices in the brain to minimize tissue damage, and with the detailed "topography" helping him avoid vital blood vessels, he reached what he found to be a grade II astrocytoma deep in Jacob's left temporal lobe.
"These are the most common type of brain tumors we see in children and if you're able to remove them completely, they are cured without the need for radiation or chemotherapy," says Dr. Aldana. "The tricky part with Jacob's surgery wasn't removing the tumor but getting to it without causing damage to the surrounding area. It was near the area of the brain that controls speech and hearing so navigating around that was the hardest part. The goal is always to remove as much of the tumor we can as safely as possible, and with the help of the advanced technological equipment we have here at Wolfson Children's Hospital, we were able to get it all."
During the surgery, Dr. Aldana communicated with Jacob's parents every two hours to give them a progress report. Even though they were told it was going well, for the concerned parents it was the longest six hours of their lives.
"The most stressful time of the whole experience was waiting during the surgery," says Stacy. "But when we finally got to go see Jacob in the ICU later that night, he was groggy but he looked great, and we were told that they got it all out."
Another MRI the day after surgery confirmed that the entire tumor was gone. Jacob will have another MRI in March and then annually after that just to ensure that the tumor hasn't returned but the chance of it coming back is less than 10 percent, Dr. Aldana says.
Handling the whole ordeal in laid back fashion thanks to his easygoing attitude and the success of the surgery, Jacob couldn't wait to go home and did so only two days later. Except for some difficulty chewing on his left side from where the muscle in the upper jaw was cut in the procedure – a temporary issue that will resolve over time as the muscle heals – he has nothing else to show for it except a 2-inch vertical scar above his ear that's already mostly covered by the hair that's growing back.
Dr. Aldana says that because the STEALTH System provides such a detailed visual and spatially oriented perspective of patients' brains, surgeons are able to be more precise. That means patients like Jacob go home sooner, recover faster and have limited complications.
"Jacob's been doing the things he did before the surgery. He's riding his bike, playing basketball and video games, and he even went back to school on September 15, less than a month afterwards," says Stacy. "It's like it never happened. It's just amazing."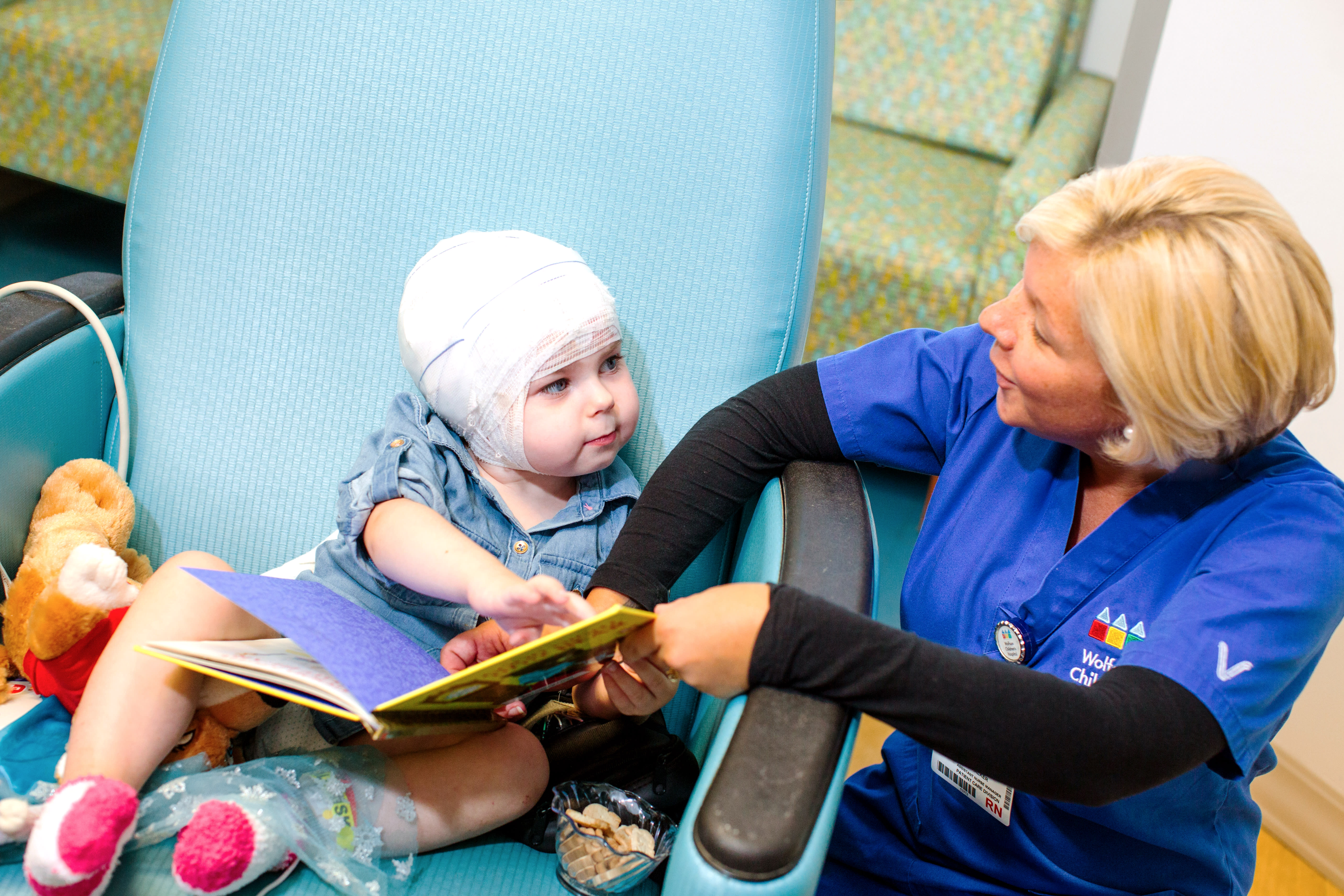 Giving to Wolfson Children's
As the only not-for-profit children's hospital in Northeast Florida, Wolfson Children's Hospital relies on the generous support of moms and dads, grandmas and grandpas, and others who care deeply about the health and well-being of kids in our region. You can help by making a secure online gift or by calling 904.202.2919.