Georgia Brothers Diagnosed With Rare Brain Tumor Three Weeks Apart
Jacksonville, Florida — April 21, 2017
Three hospitals, two specialty clinics and a home away from home work together to help Georgia family.
Katie Eunice keeps track of her sons' medical appointments and treatments with a color-coded system in her calendar.
The calendar tells the story of the Adel, Georgia, family's journey by hospital and clinic visit in Jacksonville: red for Wolfson Children's Hospital, orange for Nemours Children's Health and blue for UF Health Proton Therapy Institute.
Since Aaron and Andrew's dual diagnoses with brain tumors this past winter, the calendar provides a kind of stability in an otherwise hectic and frightening time.
It all started with a routine eye exam for Aaron on Dec. 22. As a teacher trying to squeeze everything her family needed into Christmas break, Eunice almost canceled it.
It's a good thing she didn't.
The optometrist noticed right away that the normally healthy 10-year-old's optic nerves were swollen. She sent Aaron to a Valdosta hospital for a CT scan, which revealed a scary and unusual build-up of cerebrospinal fluid on the right side of Aaron's brain.
"We knew then that something was wrong but didn't know what it meant," Eunice said.
The ER doctor called pediatric neurosurgeon Philipp Aldana, MD, co-medical director of the Stys Neuroscience Institute at Wolfson Children's. Dr. Aldana recommended that Aaron be transferred to Jacksonville for a full work-up. "Our Kids Kare mobile ICU was dispatched to Georgia to get him here quickly and safely," Dr. Aldana said.
Six hours after the eye exam started, and within 30 minutes of arriving at the Wolfson ER, Dr. Aldana's physician's assistant Britney Popp had pulled up Aaron's scan. "She told us that what we were seeing was likely a brain tumor because of the color difference," Eunice said. "The fluid was darker gray and the tumor was lighter gray."
To get a better view of what was behind the fluid buildup, Dr. Aldana ordered an MRI. During the two-hour test, Aaron watched the movies "X-Men" and "Grown Ups" using special movie goggles built to withstand the MRI machine's strong magnet.
"The MRI showed a cyst the size of a small cherry around Aaron's pituitary gland, topped by a smaller tumor," explained Dr. Aldana. "Although benign, this type of mass is likely what was causing the optic nerve to swell."
In medical terms, it was a craniopharyngioma, a non-cancerous brain tumor found near the pituitary gland that can impact many functions of the brain, including hormone making, growth, and vision.
The family considered their options. Aaron could have surgery alone to completely remove the cyst and tumor, or a different surgery just to drain the cyst that would be followed by proton therapy, a type of radiation treatment that is highly targeted to avoid normal tissue while destroying the abnormal mass.
Sounding much older than his 10 years, Aaron explained, "At first, Daddy was thinking I should have the big surgery, but Dr. Aldana told him there were too many risks, like I could go blind or it could affect my pituitary gland."
Dr. Aldana consulted with his neuro-oncology colleagues, including Daniel Indelicato, MD, director of the Pediatric Proton Therapy Program of the UF Health Proton Therapy Institute. They recommended draining the cyst at Wolfson Children's on Christmas Eve, followed by 30 proton therapy treatments over six weeks.
The family stayed at the Ronald McDonald House of Jacksonville throughout Aaron's treatment. They knew they had a long journey ahead of them, but the prognosis was hopeful.
But that got Eunice thinking about her younger son Andrew, now 9.
"In September, Andrew's doctor said he wasn't growing like he was supposed to be," Eunice said. "He's always been in the 25th percentile, but he was fixing to fall off the growth chart."
The doctor sent Andrew to Tallahassee pediatric endocrinologist Nancy Wright, MD, who ordered extensive testing and scheduled a Dec. 23 appointment to discuss the results.
"My sister took him to the appointment because we were in the hospital with Aaron," Eunice recalled. "Dr. Wright said Andrew's bone age was at 5 years old, his thyroid levels were low, and that he needed an MRI to look for a tumor on his pituitary gland.
"I asked Dr. Aldana if Andrew could have the same tumor Aaron had. He said that a craniopharyngioma is rare and not usually hereditary. I told him, 'OK, but we might be back to see you!'"
Sure enough, they were. Andrew's MRI in Georgia on Dec. 31 revealed a growth that covered his pituitary gland, and the third grader was referred to Dr. Aldana. A more detailed, higher-resolution MRI and CT scan at Wolfson Children's all but confirmed the diagnosis: Andrew, too, had a craniopharyngioma. Because of its size and location in his brain, it could be removed surgically.
On Jan. 31, Dr. Aldana and pediatric otolaryngologist Gary Josephson, MD, performed a minimally invasive procedure through Andrew's nasal cavity to remove 95 percent of the cyst. "They told us he wouldn't have to go through radiation treatment like Aaron did, but would need an MRI every three months for the next two to three years to monitor him," Eunice said.
Craniopharyngiomas are rare, but the UF Health Proton Therapy Institute, in partnership with Wolfson Children's, has treated more than 200 children with these tumors in recent years – more than any other pediatric brain tumor program in the country, Dr. Indelicato said.
Throughout radiation, Aaron continued to play baseball and kept up with his schoolwork. And research suggests that children with craniopharyngiomas like Aaron's maintain academic achievement following proton therapy, something doctors rarely saw when children were treated with traditional radiation.
"Aaron and Andrew are fine young men," Dr. Indelicato said. "I look forward to watching them grow up and hearing about their accomplishments."
Jacksonville is fortunate to have a proton therapy center, Dr. Aldana said. The joint brain tumor program brings children and families from all over the country and the world to Jacksonville for specialized care.
"We are so glad Aaron and Andrew are doing well following their treatment with us. They are delightful boys who have a good attitude toward the disease they have, and that has a lot to do with their parents," he said. "They are so positive in their thinking, and it's clear they really love their boys."
Juggling doctors' appointments and treatments, and extended stays away from home, have become routine parts of the Eunice family's lives, which includes older brother Matthew.
Lately, Katie Eunice has managed to add a few appointments to her calendar in pink, her favorite color, for classes she's taking to earn an advanced teaching certificate in graduate school in Americus, Ga.
As difficult as their journey has been, the family keeps the faith that helps them stay strong. "Since the beginning, Aaron has said, 'God's got this!'" Eunice said. "We know it's true and it helps us through our most challenging days because of his positivity, and Andrew's."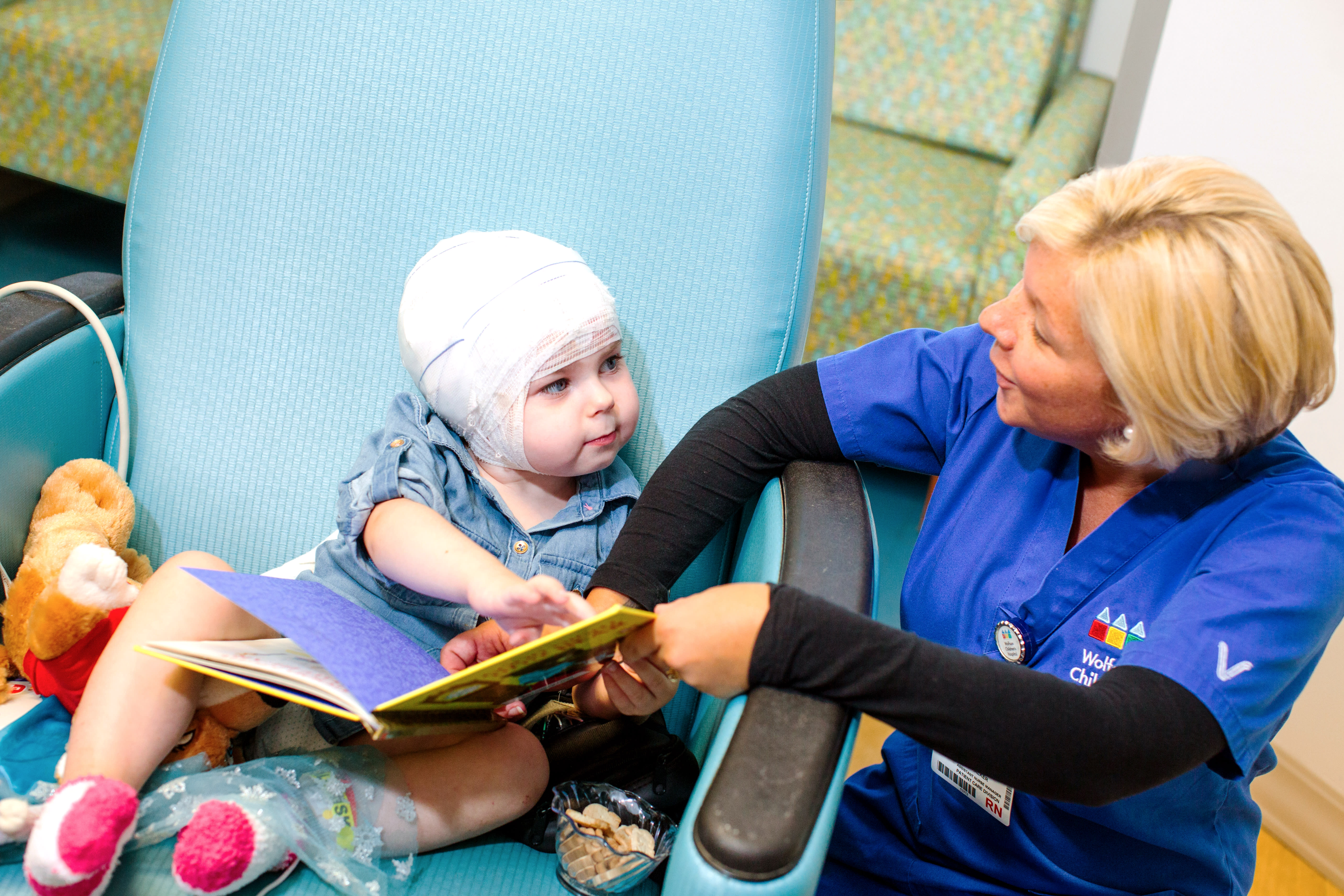 Giving to Wolfson Children's
As the only not-for-profit children's hospital in Northeast Florida, Wolfson Children's Hospital relies on the generous support of moms and dads, grandmas and grandpas, and others who care deeply about the health and well-being of kids in our region. You can help by making a secure online gift or by calling 904.202.2919.