Home Safety
Every parent wants their children to grow up healthy and strong in the place where they deserve to feel safest: at home. The good news is that there are simple and easy steps that families can take to protect their children.
Safe Kids Northeast Florida
THE PLAYERS Center for Child Health at Wolfson Children's Hospital is the lead organization for Safe Kids Northeast Florida.
Safety Experts
Safe Kids Northeast Florida works in the community to prevent unintentional injuries in children. Think of us as your go-to source for safety information.
Why Wolfson Advocates for Kids
Advocating for children is the most important part of our mission. Through THE PLAYERS Center for Child Health at Wolfson Children's, we reach beyond the walls of the hospital to promote safe and healthy childhoods for all kids in our region.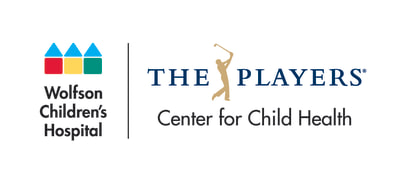 Useful tips to prevent falls, poisoning, burns, scalds, drownings and more.
Use this list and go room by room to check all the areas of your home.
Children with autism spectrum disorder (ASD) and associated developmental conditions that may include intellectual disabilities are at a greater risk for wandering, also called elopement. This can happen quickly even under caregiver supervision.

When a child leaves a safe environment, he or she is risking exposure to potential hazards such as busy roads and unsecured waterways. Children with autism, and those with intellectual disabilities, often have difficulties judging danger and effectively communicating. This puts them at greater risk for injury, and sometimes death, following elopement.

Why do children with autism and related disabilities wander/elope?

They are seeking a preferred object or activity, such as a pond, swimming pool or playground.
They may be running and exploring for fun and enjoyment.
They are escaping a perceived stressful event, which is common in schools or loud environments.
They are prone to nighttime wandering, because many children with ASD have difficulty sleeping.

What can families do to help?

For more details about the tips and items shared below, download the Big Red Safety Toolkit. Created by autism experts, it includes step-by-step instructions and strategies you can implement today to avoid wondering. These checklists, scenarios, Family Wandering Emergency Plan and resources will help you get started.

Make a Plan

Have an Elopement Emergency Response Plan.
Notify neighbors and first responders that you have a child with autism in your home.
Monitor your child for changes in behavior.
Look for reasons "why" your child might elope.
Use ID bracelets or shoe tags.
Consider using a personal tracking device.

Secure the Location

Provide a safe environment.
Equip your home with keyless locks, as well as alarms or chimes on doors and windows.
Add additional protective measures to pools.

Teach Safety

Help your child learn how to respond to safety commands such as "stop." Practice this skill.
Make sure your child has swimming/water safety lessons. Here's one option in Jacksonville that offers special needs swimming classes, and they even offer scholarships.
Teach your child to state his/her name, address, and phone number and/or to show ID.
Safe Kids Northeast Florida
THE PLAYERS Center for Child Health at Wolfson Children's Hospital is the lead organization for Safe Kids Northeast Florida.
Fire Safety
We partner with Jacksonville Fire and Rescue Department and Firehouse Subs to spread the word about fire safety in our community. Qualified families can get a free smoke detector or the batteries in an existing device replaced, by calling 904-630-CITY (2489).
Fire Safety Tips
Medication Safety
Parents and grandparents can get busy with the daily demands of life and easily forget medicine dangers lurking in the home, but there are things you can do to keep children safe from harm.
Medication Safety Tips
Battery Safety
As young children develop, they often learn by touch and by putting things into their mouths. Every three hours a child is treated in an emergency room after swallowing a button battery, but there are few things you can do to keep batteries where they belong.
Button Battery Safety Tips
Laundry Packet Safety
Liquid laundry detergent packets are designed to dissolve in water, so when they come in contact with a child's wet hands or mouths, they start to dissolve and might release the concentrated liquid. A few simple steps can help avoid poisoning.
Liquid Laundry Packet Safety Tips
Special Needs Children - Home Safety Video Series
This video series provides simple, step-by-step instructions to help families of children with physical, developmental or cognitive disabilities stay safe in the home.
Watch Now